Doctor Who B&M Exclusive 2019 8th Doctor / Dalek Set
Comments are disabled on all B&M posts so they can be concentrated in the Stocks Arrive thread.
Character Options presents a set of three unique Doctor & Dalek Twin Packs, inspired by the Doctor Who audio series from Big Finish.
Sets will be available in B&M stores from Late August
This includes a brand new take on the Eighth Doctor, plus the Dalek Interrogator Prime. The two additional Doctor and Daleks sets to be released from this range will feature the Seventh and War Doctors respectively.
There will be a second and much more limited version of each set with slight variations and exclusive to Big Finish. These will arrive shortly after the B&M stock and there will only be 150 of each.
Images shown here are of the mass market B&M Sets. The will be 1000's of these available in stores
Both the B&M set and the Big Finish sets are marked as Limited Editions.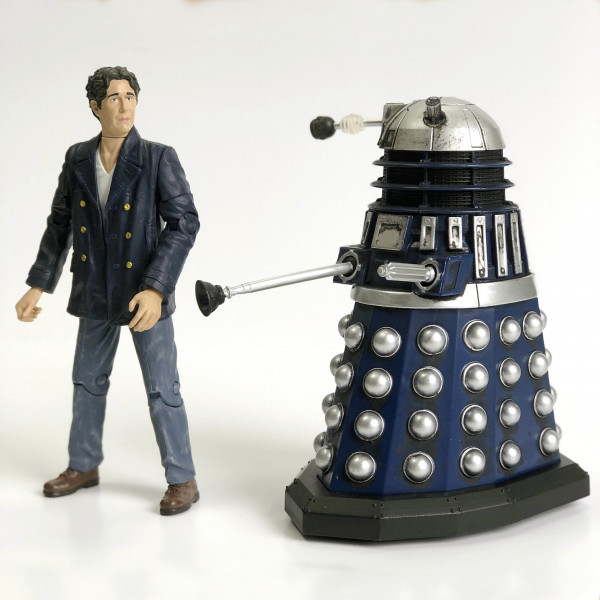 Following the announcement earlier in June of this summer's Big Finish-inspired Doctor Who merchandise from Character Options, a first preview image has been made available as a taste of what is to come.
The image released is that of the Eighth Doctor and Dalek set featuring a new version of the Doctor action figure in his 'Dark Eyes' inspired costume, along with Interrogator Dalek.
Steve Berry, Head of Marketing at Big Finish said: "We are delighted to be working with Character Options on this project and cannot wait to see the items in store. Since the news broke that the sets will soon be available, we have been inundated with requests for an image. We hope that this small taste will add to the excitement of the Character Options online reveal taking place in July."
The new Big Finish items will be all part of a wider line-up of Character Options Doctor Who figures and accessories coming to B&M retail stores this summer.
Al Dewar, Creative Director at Character Options commented: "As you can imagine we've been keeping this inventive collaboration under wraps for a while so it's fantastic to be able to release this first image of these unique additional sets to the B&M store range. As announced previously we plan to do a full unveiling live, which will take place 'unboxing style' on Character Options' own You Tube channel in July; details of the time and date will be announced soon."