Big Issue Magazine Who's Better Who's Best?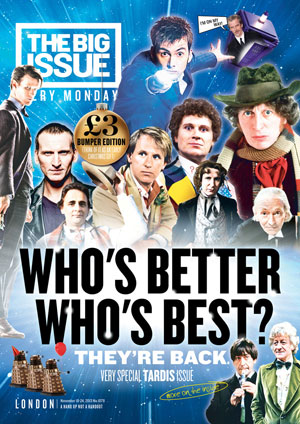 Who's Better Who's Best? Special Tardis issue
From www.bigissue.com
In this week's Big Issue…
It's the Christmas period. It really is. We kick off our run of five bumper editions with a Doctor Who special. As the anniversary of that show approaches, with a number of doctors together on screen and fan mania growing, we have a collection of fantastic features.
These include an interview with Matt Smith detailing working on screen with David Tennant; a piece from Mark Gatiss, a Who-obsessive, screenwriter, man of letters; some pieces from Karen Gillan and Eddie Izzard, and a panel of experts explaining what deeply held psychological fear each Who monster plays to and why we can't escape them. A salute to Laura Kelly and Adrian Lobb who worked tirelessly to put this stuff together.
There is also a big Doctor Who competition with prizes including a TARDIS teapot.