Big Finish – The Five Companion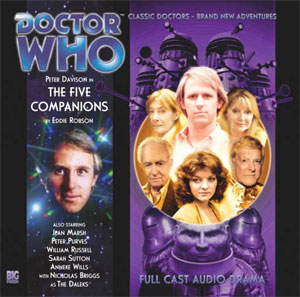 Big Finish – The Five Companion
Eddie Robson's script is an exciting and rather tender reunion, in which the Fifth Doctor meets up with his distant past – the schoolteacher who settled down, the space pilot who became a King, the security agent who died and lived again and the swinging Sixties secretary who has made her own way in the world.
This release is available ONLY to customers who buy a 12 release subscription to the Doctor Who Monthly Range.
Cast
Peter Davison (the Doctor), Sarah Sutton (Nyssa), William Russell (Ian Chesterton), Peter Purves (Steven Taylor), Jean Marsh (Sara Kingdom), Anneke Wills (Polly) Dan Starkey (the Sontarans) and Nicholas Briggs (the Daleks).
Written By: Eddie Robson