Big Finish Exclusive Variant War Doctor / Dalek Set
You can search for these sets at www.ebay.co.uk
You can also check for any sales in Completed Listings
Please note there ARE differences between the big Finish Sets and the B&M sets, some more subtle than others.
This Sold Out item was available for a limited time from www.bigfinish.com.
Thing of Guile Dalek has silver mid slats (not gold) but no change to the War Doctor
The 7th Doctor Has a darker colour jersey and Scarf
The 8th doctor has Black not brown boots and there are minor differences on the Dalek
AVAILABLE NOW – Big Finish Doctor Who action figures!
Strictly limited quantity of the three Character Options Doctor/Dalek sets for sale online
The sets are available from Big Finish ONLY as a bundle.
The price is £59.99 for the three sets, plus a £10 courier shipping fee. Overseas shipping is £30.
Orders are limited to one set per customer
Big Finish listeners and fans of Doctor Who toys were delighted by the announcement in June that three sets of Big Finish Character Options action figures would be available from B&M retail stores in the UK this summer.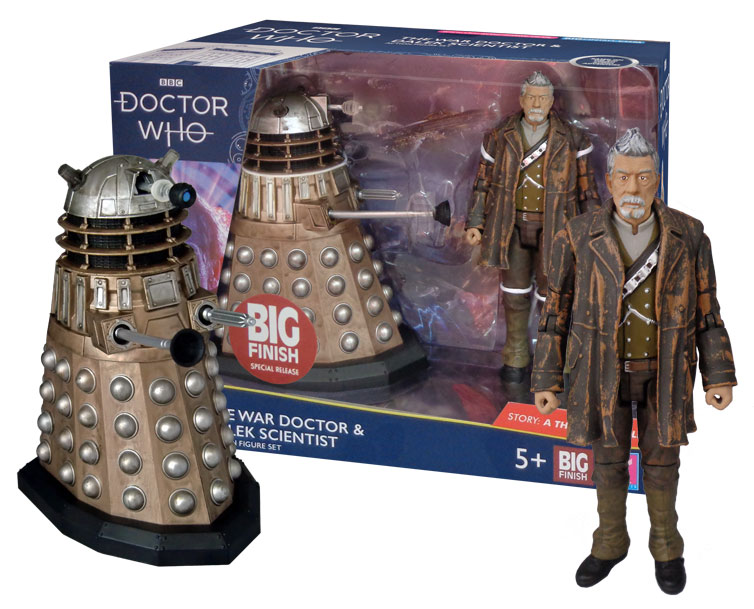 The full 2019 line of collectable Doctor Who figures and sets were unveiled on Character Options' own YouTube channel [https://www.youtube.com/watch?v=ShHZtC_9au0&t=6s] in an unboxing-style video presented by the firm's Creative Director, Al Dewar.
The B&M version left and the Big Finish version right…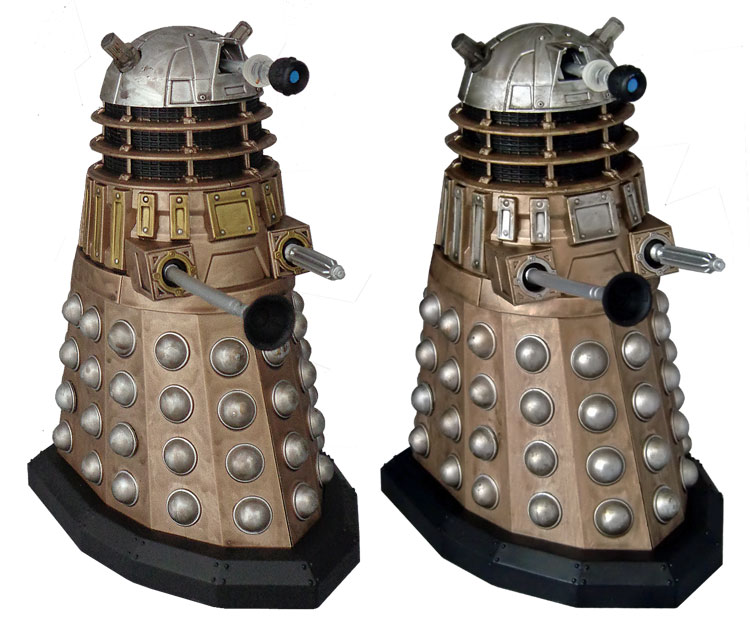 And now that the three sets have been fully revealed, as a treat for Big Finish listeners, a limited supply are available to buy from www.bigfinish.com. These figures are available for both UK and overseas customers. But be quick! Once they are gone, they're gone!
Amongst these great new collectables, the three unique Doctor and Dalek twin packs inspired by Big Finish stories are:
The Eighth Doctor and Dalek Interrogator Prime Action Figure Set – showing the fully articulated Doctor dressed in jeans and double breasted jacket from Dark Eyes, plus an Interrogator Dalek which the Eighth Doctor faces in the Time War.
---
The War Doctor and Dalek Scientist Action Figure Set – containing the Doctor as played by John Hurt in the War Doctor audio episodes, whilst the Dalek included is a scientist and works independently of High Command.
---
The Seventh Doctor and Axis Strike Squad Dalek Action Figure Set – featuring the Time Lord as played by Sylvester McCoy in the Gallifrey VI series with one of the bronze Daleks that have taken over the AXIS.
Nicholas Briggs, executive producer of Big Finish, told us how he felt about Big Finish's first action figures: "There's something magical about the Character Options Doctor Who figures, and not just because I bought boxes and boxes of them for my son! I've always felt that they were made with great love and with the fans in mind – much like Big Finish stories.
"Al Dewar from Character Options and I have kept up a dialogue, virtually since Doctor Who returned to TV back in 2005, so it's really great that this has finally come together. What do you mean, you don't believe I bought the figures for my son? I mean, I've never played with them myself… never… ever… Well, maybe there was just that one time…"
Jason Haigh-Ellery, executive producer of Big Finish, added: "Thanks to Character Options we finally have action figures representing characterisations of the Doctor as heard in Big Finish's audio drama. I was very excited to see these first sets take shape, and I look forward to seeing many more in the future!"
Al Dewar commented: "It was huge fun to reveal by video the entire new collection. We are incredibly proud of this summer 2019 line up and believe that the fans will be equally delighted with each product that is to be launched. Our loyal following of collectors are always keen to gain a first glimpse of what's new and doing this in such a personal style was important to us. The next stage is to see the range in stores!"
The three Big Finish-inspired sets are now available in a very limited supply. They are available ONLY as a bundle together priced at just £59.99, with an additional £10 courier shipping fee for the UK, or £30 for overseas shipping.
These sets are strictly limited to ONE per customer.
For those who reside in the UK, these sets will also be available from your local B&M retail store later this month.