Big Finish 4th Doctor 4.03 Requiem / Rocket Men
This range of two-part audio dramas stars Tom Baker reprising his most popular role as the Fourth Doctor (from 1974 – 1981) with a number of his original TV companions. This fourth series reunites the Doctor with savage warrior Leela (Louise Jameson) for adventures across Time and Space!
The fourth series in a Big Finish range which is hugely popular with fans of the classic TV series Doctor Who. As well as Doctor Who, Louise Jameson has been seen in Bergerac, Eastenders, and many other UK shows.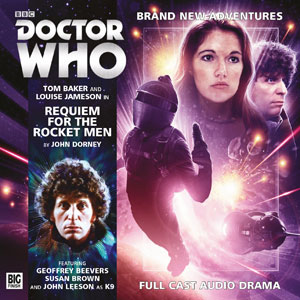 Cast
Tom Baker (The Doctor), Louise Jameson (Leela), John Leeson (K9), Geoffrey Beevers (The Master), Mark Frost (Shandar), Olivia Poulet (Myrren), Damian Lynch (Marshall), Pat Ruins (Oskin)
Available to order or download from www.bigfinish.com
Also available to order from www.amazon.co.uk
---