Big Finish 184 Scavenger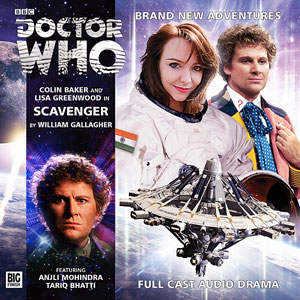 Big Finish 184 Scavenger
Released March 2014
A new adventure in time and space for the Sixth Doctor and Flip.
Thursday 28 May 2071: the day the Anglo-Indian Salvage 2 rocket launches. Its mission: to clean up space; to remove from Earth's orbit over a century's worth of man- made junk…
From the viewing window of a nearby space station, the Doctor and Flip have a unique view of Salvage 2 as it sets about its essential task – and of the disaster that unfolds when Salvage 2 encounters something it's not been programmed to deal with. Something not of human manufacture…
Back on Earth, the Doctor fights to save Flip from becoming part of a 500-year tragedy being played out in orbit, hundreds of miles above. And millions will die if he fails.
Available to order from www.bbcshop.com. You can also Buy or Download this CD or see full details on other Big Finish Audio's and books at www.bigfinish.com.
---