Big Finish 155 Doctor Who Army of Death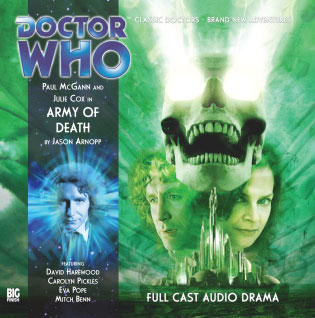 Big Finish 155 Doctor Who Army of Death
The TARDIS brings the Doctor and Mary Shelley to the continent of Zelonia, on the frontier world Draxine – where, many moons ago, the twin citystates of Garrak and Stronghaven bore testament to mankind's colonial spirit.
That was before the sinister death cult of Garrak's President Harmon took hold – and Garrak annihilated itself, utterly, in an apocalyptic explosion.
Before the bones of Garrak's dead came back to life, and its skeletal citizens began marching, marching, marching on Stronghaven itself.
Starring Paul McGann and Julie Cox.
To Buy or Download This CD or to see full details on this and other Audio CD's and books go to the Big Finish Website Here
Released 30th December 2011