Big Finish 146 Doctor Who: Heroes of Sontar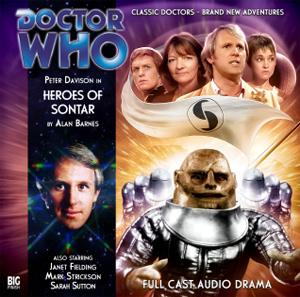 Big Finish 146 Doctor Who: Heroes of Sontar
Twenty years after detonating a bacteriological weapon over Samur, rendering it uninhabitable, the Sontarans are back: a select platoon of seven has landed here on a secret mission, carrying sealed orders given to them by Fleet Marshal Stabb.
The TARDIS has landed here, too, bringing the Doctor, Tegan, Turlough and Nyssa into the second great Battle of Samur.
Fighting not only the Sontarans, but mystical mercenaries… and a deadly, decades-old curse. Starring Peter Davison, Janet Fielding, Mark Strickson and Sarah Sutton.
To Buy or Download This CD or to see full details on this and other Audio CD's and books go to the Big Finish Website Here