Big Finish 120 The Magic Mousetrap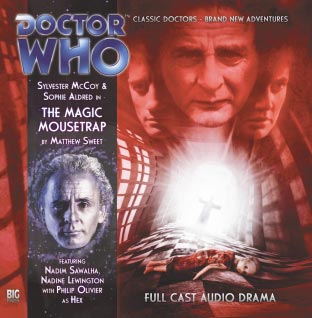 Big Finish 120 The Magic Mousetrap
Starring Sylvester McCoy and Sophie Aldred with Philip Olivier
Switzerland, 1926: the Doctor finds himself halfway up an Alpine mountainside, on his way to an exclusive sanatorium for the rich and famous run by the Viennese alienist Ludovic 'Ludo' Comfort. In between bouts of electric shock therapy, Ludo's patients – including faded music hall turn Harry Randall, chess grandmaster Swapnil Khan and Lola Luna, darling of the Weimar cabaret scene – fill their time with endless rounds of Snap!, among other diversions.
But the Doctor soon suspects that someone's playing an altogether more sinister game. Someone with a score to settle…
Sylvester McCoy (The Doctor), Sophie Aldred (Ace), Philip Olivier (Hex), Paul Anthony-Barber (Ludovic Comfort), Joan Walker (Lola Luna), Nadim Sawalha (Swapnil Khan), Nadine Lewington (Queenie Glasscock), Andrew Fettes (Harry Randall), Andrew Dickens (Herbert Randall)
BONUS EPISODE! THE COMPANION CHRONICLES: THE THREE COMPANIONS
Polly's Story by Marc Platt: The present day. Polly Wright, former companion of the Second Doctor, tracks down Sir Alistair Lethbridge-Stewart via the Internet As they chat online, they realise that they have a shared experience – and one that began on a world far away.
To Buy or Download This CD or to see full details on this and other Audio CD's and books go to the Big Finish Website Here