Big Chief Studios 1:6 Scale Rose Tyler Ltd / Signature Edition
Available to order from www.bigchiefstudios.co.uk
Feisty shop assistant Rose Tyler's life was saved by a chance encounter with the Ninth Doctor, who invited her to travel with him. Although travelling with the Doctor was often dangerous, Rose told him she would stay with him forever.
Witnessing the Ninth Doctor's regeneration only made that bond stronger. During the Battle of Canary Wharf Rose and the Tenth Doctor were separated – trapped on parallel worlds. Using a Dimension Cannon she attempted to make contact with the Doctor on several occasions, eventually encountering him as he was exterminated by a Dalek.
Once healed and the Daleks defeated, he returned Rose to the parallel world with her family and the half-human version of himself, to live the rest of their lives together.
BIG Chief Studios are proud to announce the next pre-order in the Doctor Who 1:6 Scale Figure Collection – Rose Tyler.
Featuring a fully realised likeness of Billie Piper, the figure comes outfitted in her series 4 costume and is armed with the Torchwood Gun, plus numerous accessories and a light-up Bad Wolf display base.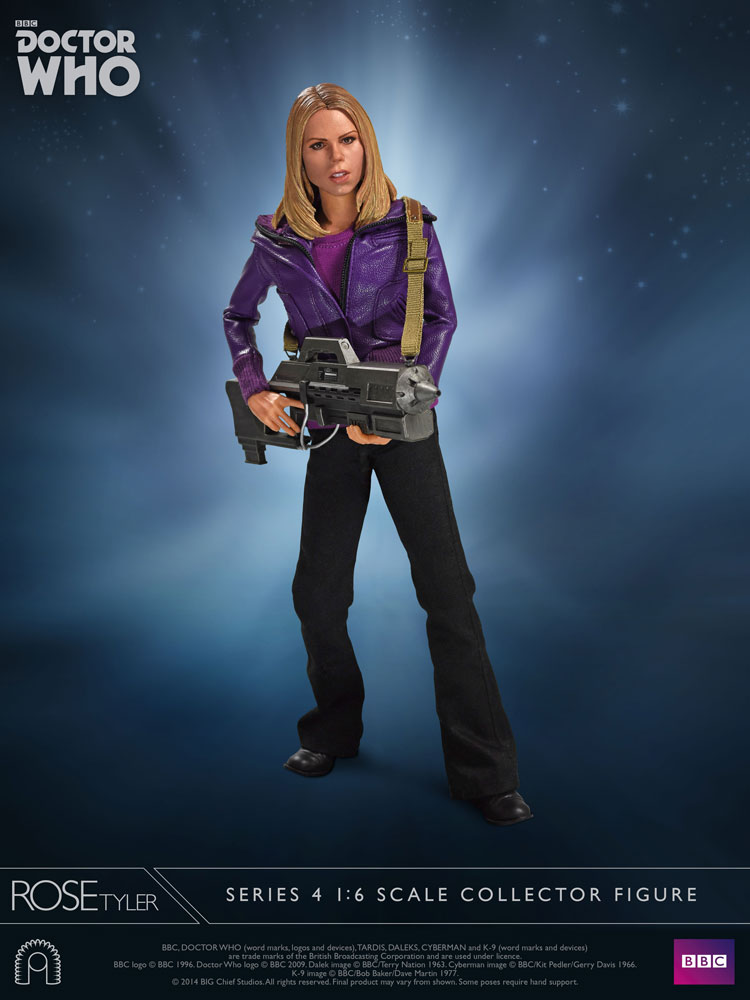 Choose to purchase via a BIG Chief payment plan, or pay in full and receive a special FREE incentive expansion pack which includes: the Tenth Doctor's Dressing Gown and is part of the Tenth Doctor Build-a-Figure Offer. Terms and conditions apply.
The Signature Edition includes a special autograph plaque hand-signed by Billie Piper and is available exclusively from www.bigchiefstudios.co.uk.
Limited to only 300 pieces worldwide, each figure comes complete with an autograph plaque, display stand, a certificate of authenticity and is packed in a full colour printed box.
Specification
1 x Rose Tyler Portrait Head featuring Authentic Likeness of Billie Piper
1 x Leather Effect Jacket
1 x T-shirt
1 x Pair of Flared Trousers
1 x Pair of Ankle Boots
8 x Interchangeable Hands
1 x Display Base with Illuminating Bad Wolf Graphic and Stand
1 x Autograph Plaque Hand-signed by Billie Piper * *
1 x Signature Plaque Stand * *
Accessories
1 x Torchwood Gun with Movable Pump Action and Strap
1 x Dimension Cannon
1 x Mobile Phone
1 x TARDIS Key on Chain
EXCLUSIVE FREE Incentive: 1 x 10th Doctor's Dressing Gown
Packaging
Product Size: H292.1mm (11.5″)**
Product Weight: 1.10 kg (2.43 lbs)**
Pack Size: W190mm (7.48″) x H360mm (14.17″) x D120mm (4.72″)
Carton Size: W210mm (8.27″) x H390mm (15.41″) x D150mm (4.96″)
Shipping Weight: 1.50 kg (3.31 lbs)**

Credits
Designed and developed by BIG Chief Studios Ltd. in the UK
Sculpting & 3D Digital Modelling Direction: Tony Leetham
Paint Decoration & Fabrication: Greggo
Product Photography & Packaging Design: Mark Andrews & Greggo
Thanks to: BBC Worldwide.
Very Special Thanks to Billie Piper.