Big Chief Studios Amy Pond 1:6 Scale Figure
Currently on offer at www.bbcshop.com for £99.99 with free UK Delivery.
Announcing Karen Gillan Signature Edition Exclusive 1:6 Scale Collector Figure.
Amy Pond first met her 'raggedy Doctor' when she was a little girl and waited fourteen years before he finally returned to whisk her away in the TARDIS. Brave, bold, decisive and always ready to confront the problem, Amy has battled the Silence, escaped the Weeping Angels, encountered the Daleks and yet still found the time to marry her childhood sweetheart Rory Williams.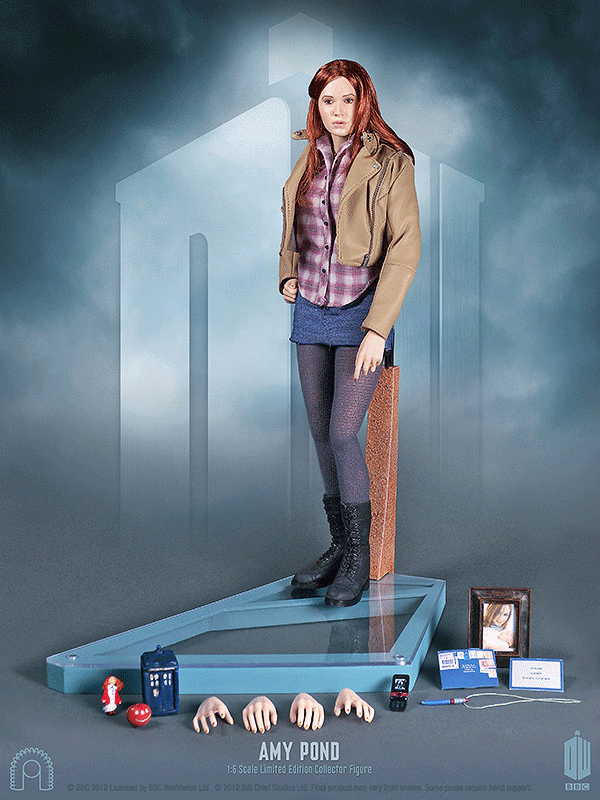 BIG Chief Studios Ltd. is proud to announce the Amy Pond 1:6 Scale Collector Figure, officially licensed and authorised by BBC Worldwide. Featuring a fully realised character portrait of "the girl who waited" as portrayed by actress Karen Gillan, authentically styled hand-tailored detailed costume, signature accessories and a partial TARDIS display base.
Specification
1 x Amy Pond Head Portrait with Styled Rooted Hair featuring an Authentic Likeness of Karen Gillan
1 x Newly Developed Fully Articulated Female Figure Body with Soft Skin Torso and Arms
1 x Faux Leather Jacket
1 x Checkered (Plaid) Shirt
1 x Skirt
1 x Pair of Tights
1 x Pair of Boots
6 x Interchangeable Hands
1 x TARDIS Floor Base with Stand
Accessories
1 x Mobile Phone
1 x Picture Frame with Photo of Amy and Baby Melody
1 x Apple with Smiley Face
1 x Marker Pen with Lanyard
1 x Raggedy Amy Doll
1 x Raggedy TARDIS
1 x Raggedy Doctor Doll – BIG Chief Website Exclusive Accessory
1 x The Pond's Invitation with Envelope
1 x Necklace with "A" Pendant
1 x Wristwatch
1 x Signature Plaque Stand 1 x Hand-signed Autograph Plaque (signature edition only)