Big Chief 1:6 Scale Figure The War Doctor
Available to order from www.bigchiefstudios.co.uk
Also available to order from www.forbiddenplanet.co.uk or
BIG Chief Studios are proud to announce an all-new 1:6 Scale Collector Figure in celebration of The War Doctor.
Officially licensed by BBC Worldwide and produced in a limited worldwide edition, each figure features a fully realised likeness of Sir John Hurt as the warrior Time Lord from the 'Day of the Doctor' and comes packed with numerous accessories including his Sonic screwdriver, Gallifreyan laser rifle, 'The Moment' cube plus a light-up display base.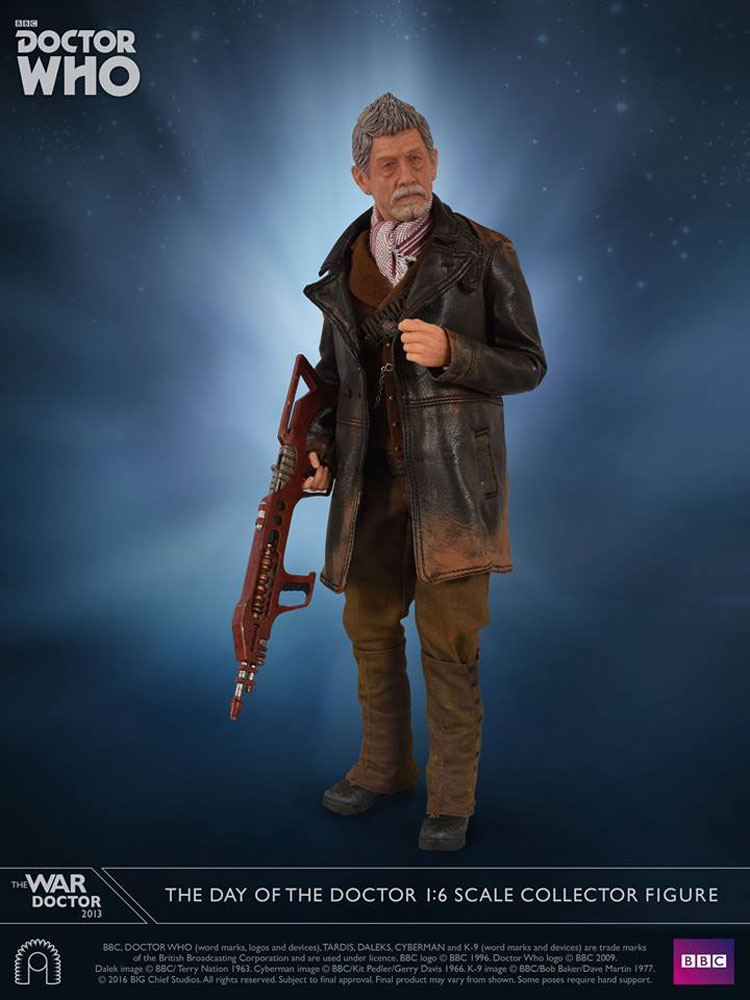 The Signature Edition includes a special autograph plaque hand-signed by John Hurt and is available exclusively from www.bigchiefstudios.co.uk
Limited to only 300 pieces worldwide, each figure comes complete with an autograph plaque, display stand, a certificate of authenticity and is packed in a full colour printed box.
At the height of the Last Great Time War, The War Doctor was born on the planet Karn. This incarnation was the Doctor's darkest secret. A battle-hardened warrior, rather than a healer.
A man who saw so much death and destruction in the Time War, that finally, at the fall of Arcadia, he proclaimed "No more". Stealing the Moment – a sentient weapon of great power – he planned to kill all Time Lords and the Daleks, in the name of peace and of sanity.