Big Chief Studios 11th Doctor Signature edition
Big Chief Studios 11th Doctor Signature edition
1:6 Scale Signature Edition Collector Figure
Edition Size: 250 Pieces / Estimated Ship Date: December 2011 – January 2012
Price: £169.99 (excl. Shipping)
You can now register for pre order Here.
Please note that the Signature Edition is exclusive to BIG Chief and will be available via their website only at the UK price stated. We do not know if they intend to ship abroad.
We are proud to announce an exclusive Signature Edition of our Eleventh Doctor figure signed by Matt Smith. Available in a strictly limited edition of only 250 pieces, each figure will come with a hand-signed autograph plaque, display stand and a certificate of authenticity. Register today for Priority Pre-order Notification. Stock is limited and will be allocated on a first come, first served basis.
Maximum 2 pieces per person. A charitable donation of £5.00 per figure is being donated by BIG Chief Studios to BBC Children in Need.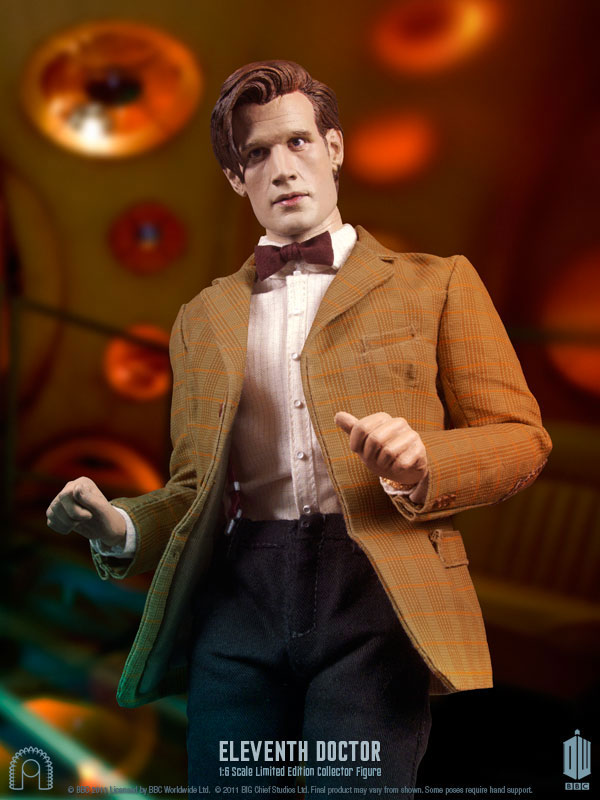 Sporting a tweed jacket and cool bow tie, the Eleventh Doctor and his companions Amy Pond and her husband Rory Pond, travel through time and space aboard the TARDIS. Sometimes dangerous, often life-threatening, but always exciting, the adventures of the Doctor and his companions are celebrated with the release of the Limited Edition 1:6 Scale Collector Series Figures from BIG Chief Studios Ltd.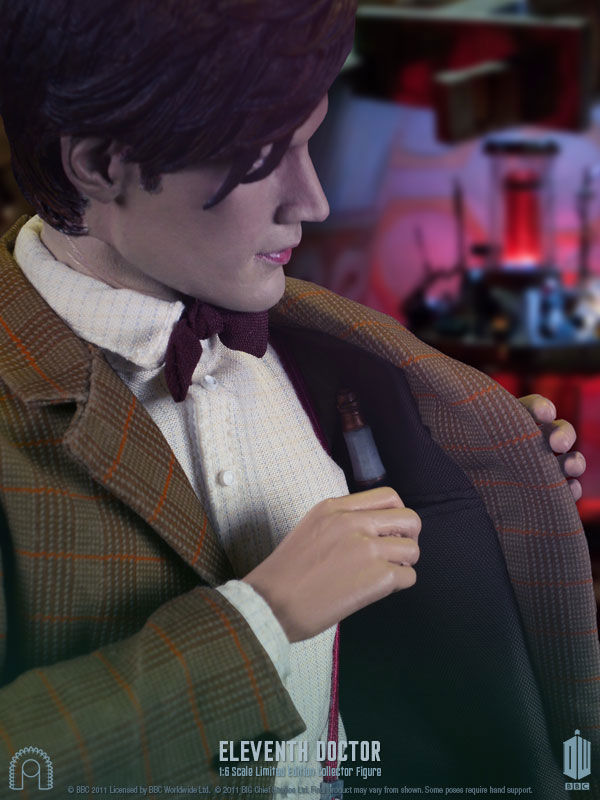 Our artists meticulously studied comprehensive reference materials to develop the most accurately scaled collector's figure. First creating a realistic and authentic character portrait of the Eleventh Doctor as portrayed by actor Matt Smith and replicating the Time Lord's trademark costume and signature accessories in exacting detail.
Officially licensed and authorised by BBC Worldwide, includes authentic character portrait, beautifully hand-tailored costume, signature accessories and a deluxe display base.
Specification
1 x Eleventh Doctor Head Portrait featuring an Authentic Likeness of Matt Smith
1 x Jacket
1 x Shirt
1 x Bow Tie
1 x Pair of Bracers (Suspenders)
1 x Pair of Trousers
1 x Pair of Boots
1 x Pair of Socks (Partial)
6 x Interchangeable Hands
1 x TARDIS Floor Base with Stand
Accessories
1 x Sonic Screwdriver (Closed) *
1 x Sonic Screwdriver (Open) *
1 x Wallet with Psychic Paper
1 x Nano Recorder Gun
1 x Lash-up Device
1 x Time Lord Consciousness Cube *
1 x The Doctor's Invitation with Envelope
1 x TARDIS Door Sign Fragment
1 x The Doctor's Handkerchief
1 x Wristwatch
1 x Hand-signed Autograph Plaque (SE only)
1 x Plaque Stand (SE only)
NOTE: * Accessories do not have light-up features