Reeltime Pictures Wartime Featuring Sergeant Benton Re-mastered DVD
Available to order from www.amazon.co.uk
Re-mastered and re-graded, with a full stereo sound mix by MARK AYRES, this is the first time WARTIME has been made available in digital media.
This classic 1988 drama featured Sergeant Benton from UNIT as he battles both a terrorist threat and ghosts from his past – including his father (played by MICHAEL "Davros" WISHER).
Also featuring the voice of NICHOLAS COURTNEY … and if you look hard you'll see NICHOLAS "Voice of the Daleks" BRIGGS!
Also available will be an in-depth documentary special feature recounting the history of independent DOCTOR WHO spin-off dramas.
The DVD will also feature a photo gallery plus the first 500 copies will be printed with a reversible inlay – featuring both the new cover artwork by MARTIN BAINES and the original 1988 art by PHIL BEVAN.
A real treat for all Cult TV fans!
New DVD cover (left and origianl VHS cover (right)…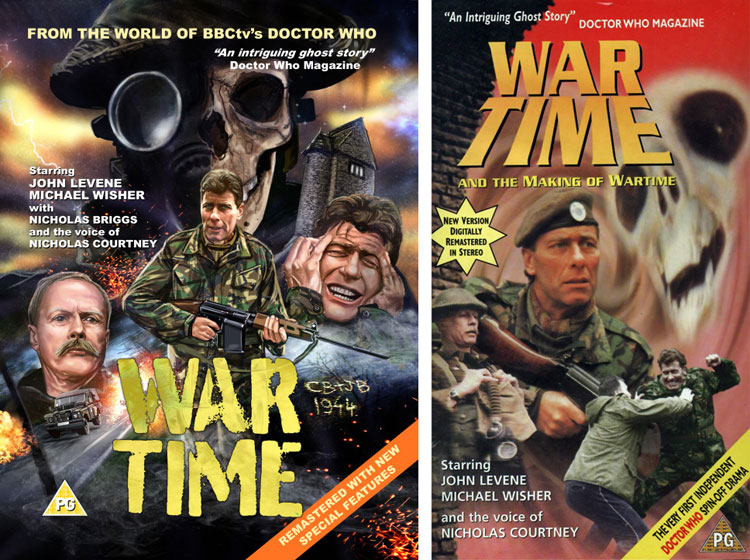 The United Nations Intelligence Taskforce is a secret global organisation set up to investigate the abnormal, the unexplained, the dangerous, in fact anything on Earth… and beyond.
Warrant officer John Benton works for U.N.I.T. — and he's in trouble!
Trapped in a nightmare world where past and present are one, Benton's sanity hangs in the balance. Will he be lost forever or can he fight his way back to reality? A reality where he is desperately needed!
The popular U.N.I.T. regular from BBCtv series DOCTOR WHO returns in a brand new fantasy adventure.
You can find more on Reeltime Pictures, BBV and Time Travel TV Productions Here