BBC On-line Shop Official Dalek Reproductions
BBC On-line Shop Official Dalek Reproductions
You can now order these Dalek replicas via the BBC Shop
The Dalek Replicas are hand-built to order using the original moulds and specifications from the Daleks used in the TV series. The official reproduction props stand at a life-sized 5'3" tall and come in a range of authentic colours and a range of original features.
The arms are mounted on ball joints, allowing them to be moved. The plunger arm can be extended in and out and the dome can be rotated 360°. The addition of wheels in the base make it easy to move around. Unfortunately it is not a ride in Dalek so you can't take it for a spin but it looks and feels exactly like the ones made by the BBC props department and will make quite a statement in your living room!
Features include…
*Officially licensed Dalek replica
*Manufactured by hand to order
*Made form the same moulds and specifications as the original Daleks
*Ball Jointed arms
*Plunger arm extends in and out
*Dome rotates 360 deg
*Built on small casters for ease of movement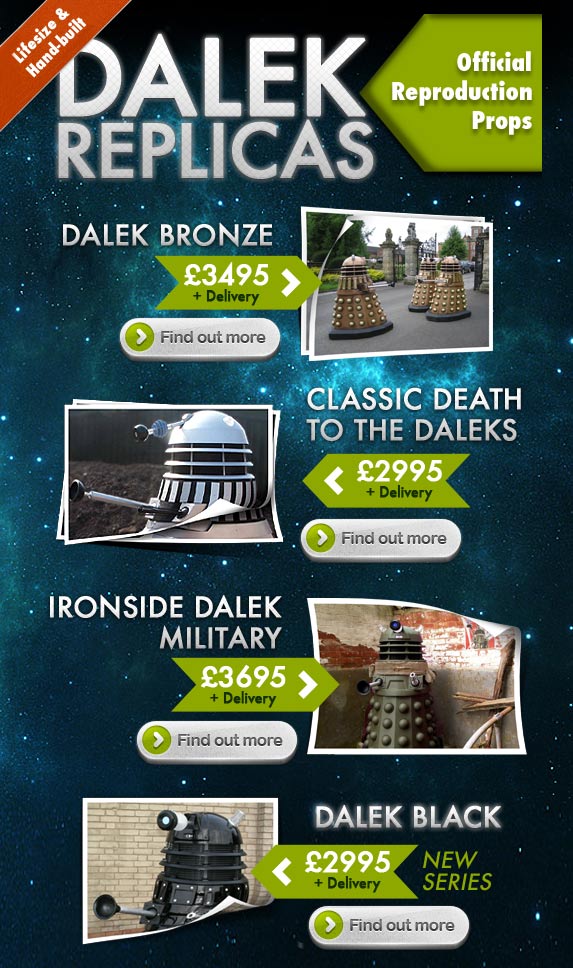 Copyright restrictions and terms apply to this item, please see the BBC Site for full details.