Artisan Master 11th Doctor Sonic Screwdriver
11th Doctor's Sonic Screwdriver – Artisan Master Series
This item is sold out.
You can see more information and more images at www.qmxonline.com
The Real Deal From the Doctor Who Prop Maker
For devoted Doctor Who collectors who demand absolute authenticity, QMx is proud to offer an extremely limited edition of the 11th Doctor's Sonic Screwdriver.
This is not a replica. As part of the QMx Artisan Master Series, this is a real hero prop.
This special edition of the Sonic Screwdriver has been handmade for QMx by Doctor Who Prop Maker Nick Robatto, who is based in Cardiff, Wales. Like the prop seen on-screen, our hero extends, opens and lights up.
Each 11th Doctor's Sonic Screwdriver – Artisan Master Series:
*Is made entirely by hand by Mr. Robatto himself. None of the parts is machined or CNC'd; it is constructed exactly like the screen-used hero prop.
*Consists of 148 components, most of them made of aluminum, copper, brass, resin and leather.
*Takes two weeks to assemble.
*Contains no found objects, with the exception of screws and electronic components.
*Measure 8.5 inches in the closed position; 9.5 inches in the extended position.
Nick Robatto considers himself to be very lucky to have had the job of bringing the sonics to life for the Doctor Who series – he has been the prop maker for the show since it rebooted in 2005. The hard part was taking the artist's concept and creating a working model that would actually extend, with jaws that would open.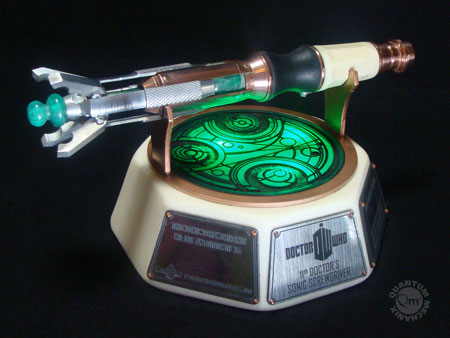 "The best part is when you've made it and put all the pieces together and give it that first flick," says Robatto. He advises owners of the hero props to handle them firmly but gently. Because they will tarnish with age, Mr. Robatto recommends polishing the metal parts with Brasso to restore their luster.
Each 11th Doctor's Sonic Screwdriver – Artisan Master Series comes with a custom-built, lighted display stand that features text in the language of Gallifrey, Doctor Who's home planet. The stand lists the edition number and is signed by Nick Robatto. The sonic and stand come packaged in a handmade wooden chest that features the Doctor Who logo.
Only 25 of these very special Master Series Sonic Screwdrivers made personally by Nick Robatto will be available for sale. It's a rare opportunity to own this absolutely authentic piece of Gallifreyan technology. Offered at $3,999.95.
IMPORTANT NOTE: This is NOT the QMx replica. This is the real thing made by the same artisan who makes the prop used by Matt Smith (the 11th Doctor). QMx still plans to release a much larger edition replica of the 11th Doctor's Sonic Screwdriver at a later date.