Zeon Smartphone Controlled Dalek and K9 – Video
Zeon Character's Smartphone Controlled Dalek and K9
You can keep up to date with Zeon Products via their Facebook page.
An exclusive view at Zeon Character's new Doctor Who concepts – 2 remote controlled items that will blow your minds!
Smartphone Controlled Dalek
Featuring two modes, you can control you're very own Dalek using your phone/tablet or let it roam by itself to conquer the galaxy. In autonomous mode the Dalek will patrol your area and when it encounters an object, it will stop and shake it's head, before turning and resuming patrol. In user control mode, the user can drive the Dalek remotely using their smartphone or tablet device. Alongside the direct control, the user can activate features, such as firing it's death ray gun. Like the Smartphone Controlled K-9, we will keep you updated on availability as soon as we can.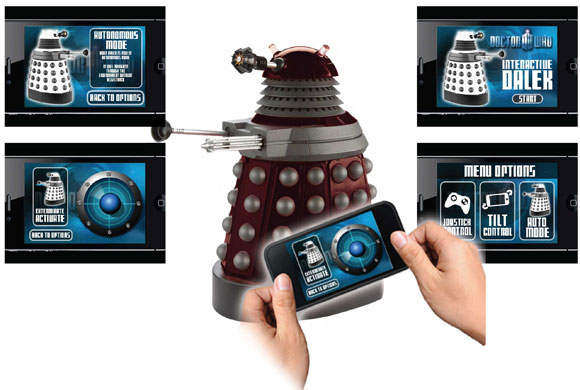 Smartphone Controlled K-9
Control your very own K-9! By simply using bluetooth, your Android or iPhone device can talk to K-9 and you can help fight against the evils of the galaxy that threaten Earth. Being a true scale model, this K-9 features moving ears, flashing keypad buttons and user controlled extending probe. The app can also be updated to add new voices and features without the user having to update the physical K-9 unit. We will keep you updated on availability as soon as we can.