Adventure in Space & Time CD Soundtrack

Available to order in the UK from www.amazon.co.uk

Available to order in the USA from www.amazon.com
Composer Edmund Butt's excellent score to Mark Gatiss's inspired retelling of the birth of Doctor Who.
"It's a sea of fag smoke, tweed and sweaty men" – Verity Lambert, first producer of Doctor Who.
This special one-off drama that travels back to 1963 to see how Doctor Who was first brought to the screen. Actor William Hartnell felt trapped by a succession of hard-man roles. Wannabe producer Verity Lambert was frustrated by the TV industry's glass ceiling.
Tracklisting:
01 MAIN TITLE – AN ADVENTURE IN SPACE AND TIME (0:38)
02 THE RIGHT MAN (1:17)
03 THE FIRST WOMAN PRODUCER (1:21)
04 I'VE GOT AN IDEA.. (1:34)
05 THE DALEKS (2:52)
06 KILL DR. WHO (1:48)
07 WHAT DIMENSION? (1:24)
08 THIS IS MY SHOW (1:50)
09 AUTOGRAPH HUNTING (2:31)
10 SYDNEY NEWMAN (1:00)
11 SCARLETT O'HARA (1:03)
12 PISS & VINEGAR (1:24)
13 DRESSING ROOM (1:18)
14 JFK ASSASSINATED (1:48)
15 THE TARDIS (0:57)
16 GOODBYE SUSAN (2:37)
17 10 MILLION VIEWERS (0:57)
18 THE FANS (0:41)
19 I'M SO SORRY BILL (2:45)
20 KISS GOODBYE (1:05)
21 MY SUCCESSOR (1:06)
22 ISOP GALAXY (0:50)
23 IRREPLACEABLE (1:19)
24 THE NEW DOCTOR (3:55)
25 TIME'S UP.. (1:15)
Both of them were to find unlikely hope and unexpected challenges in the form of a Saturday tea-time drama. Allied with a team of unusual but brilliant people, they went on to create the longest running science fiction series ever made.
Composer Edmund Butt's understanding of the characters and the narrative is perfect and writer Mark Gatiss comments: "Edmund Butt's gorgeous score is one of the highlights of the film."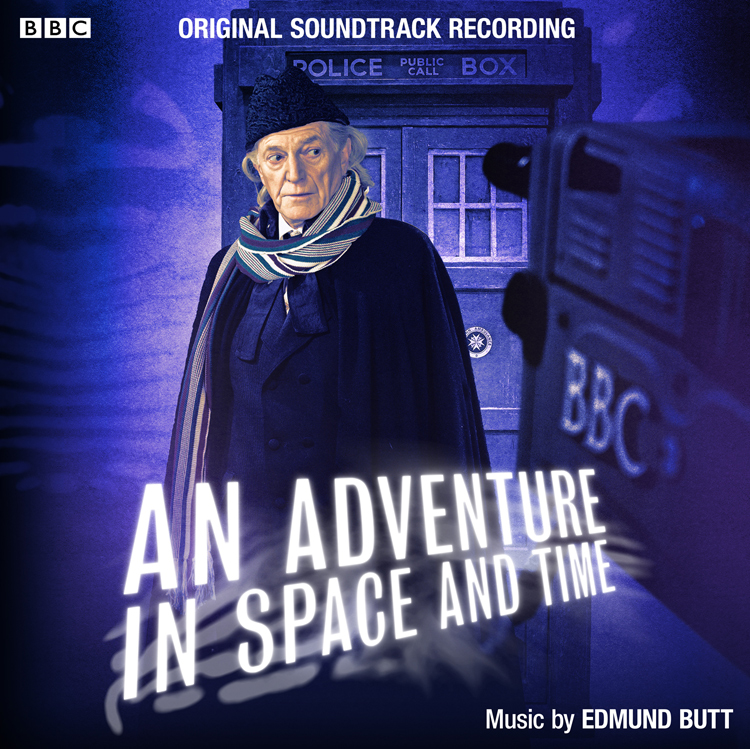 Edmund Butt is well known for scores for Sea of Souls, Murphy's Law, Mistresses, Life on Mars and Ashes to Ashes. He is the Winner of the 2011 RTS Award for Best Television Score for Garrow's Law.
In 2012 Ed was nominated for RTS Award for Best Original Title Theme for Without You. Renowned for his artful command of melody and harmony and his thrilling and unique dramatic style, Ed's score for An Adventure in Space and Time was favourably received:
Performed by The Chamber Orchestra of London
Conducted & orchestrated by Geoff Alexander
Recorded at Abbey Road Studios "Studio 1" London
A BBC Music / BBC Worldwide Production