About Time 3 (Seasons 7 to 11)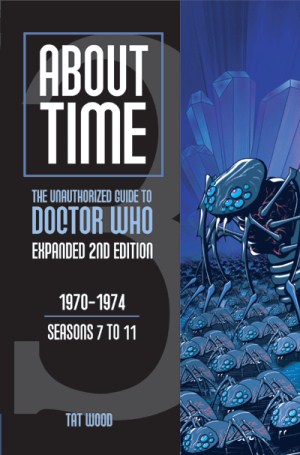 About Time 3 (Seasons 7 to 11) [2nd Edition]
An Unauthorized Guide to the Doctor Who TV Show
by Tat Wood with additional material by Lawrence Miles
In the About Time 3 Second Edition, Tat Wood vastly expands upon the discussion of the Jon Pertwee era of "Doctor Who," bringing this installment of the About Time series up to the size and elaborate depth of its fellows.
All told, this Second Edition has nearly three times the material of its predecessor.
Many existing essays and entries have been greatly retooled, and evidence from the new "Doctor Who" series (unbroadcast when this book was first published) has been taken into account. New essays in this edition include "The Daemons: What the Hell Are They Doing?", "Where Were Torchwood When All This Was Happening?" and "Is This Any Way to Run a Galactic Empire?".
(At present, Mad Norwegian has no plans to do second editions of the other "About Time" volumes.)
For more information visit the Mad Norwegian website Here

Where to Buy Mad Norwegian Books in Britian
FORBIDDEN PLANET STORES
Megastore Location:
179 Shaftesbury Ave
London
WC2H 8JR
020 7420 3666
GALAXY FOUR
493 Glossop Road
Sheffield, S10 2QE
0114 268 4976
www.galaxy4.co.uk
THE WHO SHOP
4 Station Parade
High Street North
East Ham
London E6 1JD
020 8471 2356
www.thewhoshop.com