A Very Personal Appeal and Ebay Charity Auctions
Today a Titan Tardis made it to the top of Mount Snowdon…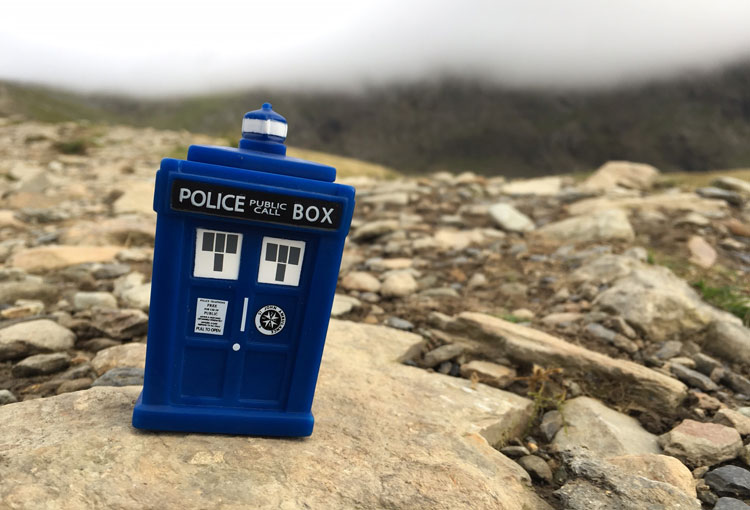 .
These auctions are now live (there are many more to come):
Character 12th Doctors Second Sonic Screwdriver
Character 5.5″ Collectors Series Missy in Black
Character 5.5″ 11th Doctor with Sonic Screwdriver
Character Doctor Who 11th Doctor Cowboy Hat 5.5″ Action Figure
Character Building Super Rare 11 Eleven Doctors Set
Robert Harrop Ice Warrior Varga Ltd Edition Figurine
Titan Ghost Cyberman Doctor Who Comic Day
Titans Glitter Tardis and Ghost 12th Doctor SDCC 2016
Titan 6.5″ Meta Crisis 10th Doctor USA Exclusive
Titan 6.5″ Materialising Tardis Hot Topic Exclusive
Character 12th Doctor Flight Control Tardis
Set of 3 SFX 5″ Talking Daleks
Big Finish Ltd Edition Damage Goods / The Well Mannered War
Big Finish Tom Baker at 80 Signed
Big Finish Signed-Dark Eyes 2
Doctor Who 4th Doctor 18′ Scarf + Painters lapel badge
---

As a handful of regular visitors may know, last year, following what was supposedly a routine eye test for some vision problems, Luke, who is everything behind this site ( and I mean everything ), was diagnosed with a brain tumour.
A visual field test performed by Vision Express suggested a possible neurological problem and a subsequent MRI scan revealed what turned out to be a substantial tumour.
Thankfully, following a major operation last November this turned out to be benign. Others are not so fortunate.
This is however something that Luke will have to live with forever.
Luke is not that old.
The point of this post?
If you feel your eyesight isn't right get it checked – it could save your life.
Some brilliant companies/individuals have donated some fantastic items for us to auction on ebay, these will all be featured on the merchandise pages and all net proceeds will be added to Luke's Charity – Bristol Southmead Hospital
If you feel you can make a donation, no matter how small then you can do so Here
Where it all began – visual field test before the operation…

And a few months after the operation…

Luke, and his work colleagues from www.iconnet.co.uk (who have been fantastic) climbed Mount Snowdon on 16 September 2016 in order to raise money for his Charity and to promote eyesight awareness. Luke has recently completed some filming for eyesight awareness week.
Again, if you feel you can help then you can donate at www.virginmoneygiving.com.
It would be great to see some "Characters and Monsters" from Doctor Who Making a donation!
And watch out for those auctions and dig deep if you can…
Booboo
---
About the ebay auctions
Companies and individuals have been fantastic and donated item for us to auction to raise money for Lukes's charity. Some of those people have chosen to remain anonymous.
These items will be auctioned on my own personal account (so others who may come across them in searches know who they are dealing with).
All proceeds (unless otherwise stated), less ebay and paypal charges will be donated on mass to Luke's charity via www.virginmoneygiving.com.
Although ebay waive charges for direct payment to charities I would like to be able to add the total of whatever we can achieve hear to Luke's Page.
We receive a small percentage of the sale value if the winning bidder has purchased the item through the ebay links on this site. We will add to the total any money earned through those links which hopefully will off set some of the ebay / paypal charges.
All items will be sent recorded / special delivery depending on value and in boxes, except CD's which will be sent in strong jiffy bags.
The Auctions should start within the next week or two and will be spread over a number of days.
If you are a company /individual connected to Doctor Who and feel you can donate any items for us to auction then please Contact us