50th Anniversary BBC Shop Prints – 11th Doctor
50th Anniversary BBC Shop Prints – 11th Doctor
To celebrate 50 years of Doctor Who BBC Shop is producing a very special limited edition print for each Doctor and releasing one each month during 2013. There are only 100 available of this collectible framed print with mounted medallion.
Only available at BBC Shop. Don't miss out on this very exciting release complete with certificate of authenticity.
Available to order now from www.bbcshop.com.
Born, "still cooking", into a crashing TARDIS, the Eleventh Doctor hurtles into the life of Amy Pond, and the mystery of the crack in her wall. Pursuing the time-erasing cracks, the Doctor and Amy battle new paradigm Daleks in World War Two, Weeping Angels by the thousand and the depression in Vincent van Gogh's mind.
After learning the cracks are caused by the TARDIS exploding, the Doctor sacrifices himself to reboot the universe, only to be remembered back into existence by Amy. After calling his companions to Lake Silenco, Utah, a future version of the Doctor was seen to die at the hands of an impossible astronaut.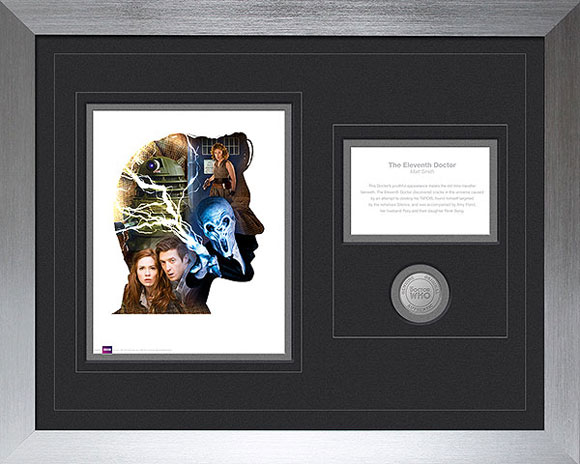 When it transpired that the astronaut was River Song, controlled by the Silence, the Doctor allowed the fixed moment in time to happen by substituting himself with shape-shifting ship Teselecta.
The Doctor was able to slip out of view, going on to infiltrate the Dalek Asylum and discover dinosaurs on a spaceship – but how long will it be before the prophesied "fall of the Eleventh"?
Available to order now from www.bbcshop.com.