Doctor Who DVD Files Issue 96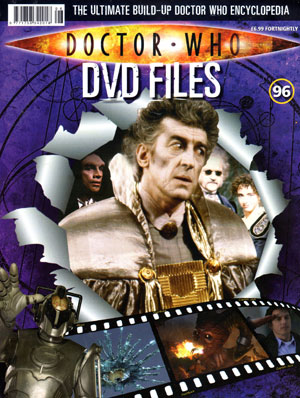 Doctor Who DVD Files Issue 96
This 96th edition of The DVD Files contains the classic story Ghost Light.
Available every fortnight, the magazine builds up into the ultimate Doctor Who Encyclopaedia."Doctor Who DVD Files is something unique – it's not just a chance to collect every episode of the series since the Doctor's return, the pull-apart magazine is incredibly ambitious.
Every fortnight you get pages packed with information and specially commissioned artwork.
It is currently planned to extend the DVD files to at least 110 issues.
In this issue…
GHOST LIGHT
The Seventh Doctor and Ace explore a haunted house…
ATRAXI
These alien gaolers tried to boil the Earth!

GALLIFREY: DEATH ZONE
The dark secret at the heart of a Time Lord paradise…
CAPTAIN JACK:TOP 10 MOMENTS
Relive the highs and lows of Jack Harkness'adventures.
10 YEARS YOUNG
Doctor Who celebrates its tenth anniversary in style.
CYBER LORD
Meet a new breed of Cyber Leader in Victorian London…
SILVER GIANT
Exclusive interview with Cyber actor Michael Kilgarriff.
CARRIONITE DNA MODULE
Is it witchcraft? Or is it alien DNA replication?
HE IS AWAKE!
On the planet KropTor, something nasty lurks in the pit
For more information and how to subscribe go to the DVD Files website Here.
To order individual back issues click Here.