Win Damaged Goods / Well-Mannered War (Closed)
With thanks to Big Finish we have one superb CD Limited edition set featuring Damaged Goods and The Well-Mannered War to give away.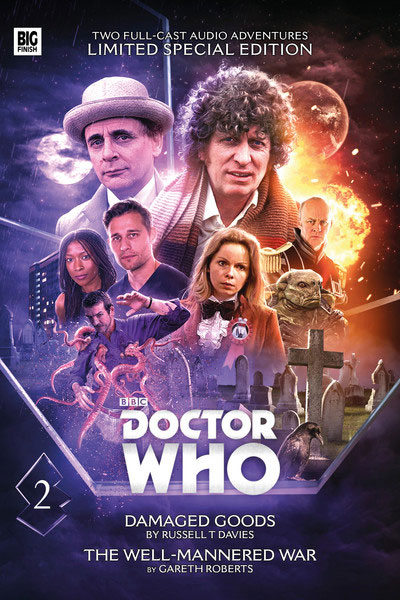 ---
The Well-Mannered War
The edges of space, the far distant future, an era even the Time Lords are not supposed to visit.
Laid claim to by disputing factions of humans and Chelonians, the planet Barclow has become the catalyst for an unusual war. In two hundred years of hostilities not a shot has been fired, and the opposing combatants are the best of friends.
But when the Doctor, Romana and K9 arrive, they discover the peace is not going to last. Something dangerous is happening behind the scenes. An election looms. Bodies are piling up. Tensions are growing. Someone, somewhere is trying to make this well-mannered war very angry indeed.
Only the Time-travellers can save the day. But that might be their biggest mistake.
Based on the original 1997 Missing Adventures novel by Doctor Who writer Gareth Roberts.
Cast
Tom Baker (The Doctor), Lalla Ward (Romana), John Leeson (K9), Tim McInnerny (Admiral Dolne), Jon Glover (Jafrid), Michael Troughton (Menlove Stokes), Gunnar Cauthery (Viddeas), Jane Slavin (Cadinot), Russell Bentley (Seskwa), Hamish Clark (Fritchoff), John Banks (Harmock), Elizabeth Rider (Galatea), Jessica Claire (Liris/Newsreader), David Troughton (The Black Guardian)
---
Damaged Goods
The year is 1987 and there's a deadly new narcotic on the streets of London. As part of their investigations the Doctor and his companions Chris and Roz move into the Quadrant, a rundown housing estate. An ancient alien menace has been unleashed, a menace somehow linked to a local gang leader known as The Capper, a charmed young boy called Gabriel and his mother Winnie, the enigmatic Frei Foundation, and Eva Jericho, a woman driven to the brink of madness.
As London descends into an apocalyptic nightmare, the Doctor must uncover the truth about the residents of the Quadrant and a desperate bargain made one dark Christmas Eve.
Based on the original 1996 New Adventures novel by Doctor Who writer and executive producer Russell T Davies.
Cast
Sylvester McCoy (The Doctor), Travis Oliver (Chris Cwej), Yasmin Bannerman (Roz Forrester), Michelle Collins (Winnie Tyler), Denise Black (Eva Jericho), Georgie Fuller (Bev Tyler), Tayler Marshall (Gabriel Tyler), Richard Hope (Harry Harvey), Daniel Brocklebank (David Daniels), Peter Barrett (The Capper), Robert Duncan (Mr Thomas), Damian Lynch (Scott Delaney)
---
---
Enter the competition
You can either leave a comment or enter by email (but not both)
Either leave an appropriate comment of some sort below (wont make any difference what you say) and include your email address in the marked box so we can contact you or email us to enter the competition. Please include "Big Finish Competition" in the subject line
---
Competition Rules
One entry per email. ( You must ask permission if using parents/guardians).
Email Address must be your own, or used with owners permission otherwise we wont be able to contact you.
One entry per comment / ip address / Person.
Competition will end 31st May. If the winner doesn't respond within 5 days we will pass to the next person.
The winners first name will be displayed here once they have replied to our email.
This competition is open to the following countries: United Kingdon
Please use ask a question if you need more information.
Good luck!