Competition – Win a Series 8 Doctor Who Soundtrack

You can listen to previews on iTunes UK

You can listen to previews on iTunes USA
---
With thanks to Silva Screen Records we have another amazing competition for you.
We have 2 Series 8 Soundtracks to give away. One Limited edition which includes an extra 16 page booklet depicting the 13 Radio Times poster and one standard edition for the runner up.
These soundtracks will be sent to the winners direct from Silva Screen Records
---
The competition has finished
The winners were: Geoff and Jamie
---
Competition Rules
One entry per email. ( You must ask permission if using parents/guardians).
Email Address must be your own, or used with owners permission otherwise we wont be able to contact you.
One entry per comment / ip address / Person.
Competition will end 18th May. If the winner doesn't respond within 5 days we will pass to the next person.
The winners first name will be displayed here once they have replied to our email.
This competition is open to the following countries: United Kingdon
Please use ask a question if you need more information.
Good luck!
---
Doctor Who: Series 8 will be the first soundtrack release of music from the twelfth Doctor Who, Peter Capaldi, featuring the new Doctor's theme A Good Man? (Twelve's Theme).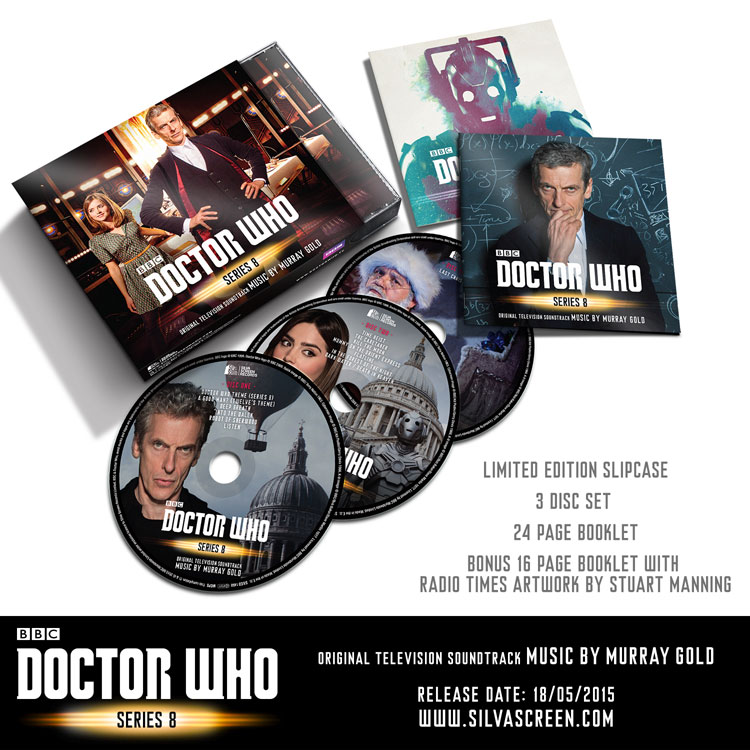 This 3 disc set also includes the music from the episode Last Christmas and an extensive 24 page booklet with notes from Murray Gold. The score is performed by the BBC National Orchestra of Wales, Murray Gold (computer instruments, guitars and synths) and conducted by Ben Foster and James Shearman.
The first 5000 copies of the CD will include an extra 16 page booklet depicting the 13 Radio Times posters, one for each episode. (sold out)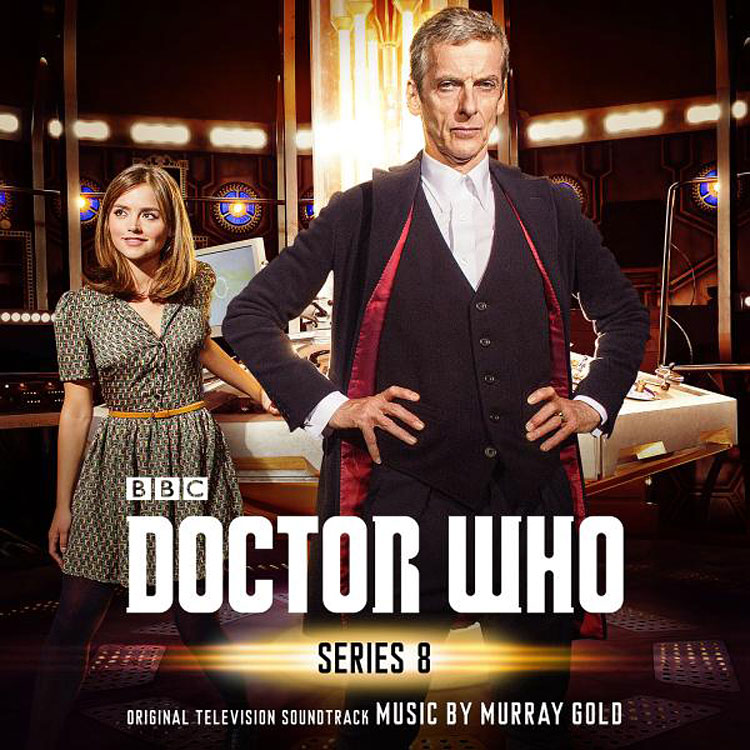 Disc: 1
1. Doctor Who Theme Series 8
2. A Good Man? (Twelve's Theme)
3. Something It Ate
4. Concussed
5. It's Still Him
6. Pudding Brains
7. Breath
8. Hello Hello
9. A Drink First
10. Missy's Theme
11. Aristotle, We Have Been Hit
12. We're Still Going To Kill You
13. Tell Me, Am I A Good Man?
14. What Difference A Good Dalek?
15. The Truth About The Daleks
16. Old Fashioned Hero
17. This Is My Spoon
18. Robert, Earl of Loxley
19. The Legend of Robin Hood
20. Robin of Sherwood
21. The Golden Arrow
22. Listen
23. Rupert Pink
24. Fear
Disc: 2
1. The Architect
2. Rob The Bank
3. Account Closed
4. Open Up
5. The Caretaker
6. Are You Going To Shoot Me?
7. When I Say Run
8. That Is The Moon
9. Start The Clock
10. There's That Smile
11. The Sarcophagus Opens
12. The Artefact
13. Study Our Own Demise
14. Not Knowing
15. Siege Mode
16. In The Woods
17. We Weren't Asleep That Long
18. Forgetting
19. The Song of Danny and Clara
20. Throw Away The Key
21. Browsing
22. They Walk Among Us
23. There is No Clara Oswald
24. Missy And Her Boys
25. A Good Man, An Incredible Liar
26. Freefall
27. I Need To Know
28. Missy's Theme – Extended
29. Missy's Gift
30. (The Majestic Tale of) An Idiot With a Box
Disc: 3
1. 3 Perfectly Ordinary Roof People
2. Do You Really Believe In Santa?
3. Unsealing The Infirmary
4. Ghosts
5. What Seems To Be The Problem?
6. We Don't Know What's Real
7. Thinking About It
8. Clara's Dream Christmas
9. The Doctor's Dream Christmas
10. Dreams Within Dreams
11. Believe In Santa
12. Sleigh Ride
13. A Reunion
14. Every Christmas Is Last Christmas
---

itunes UK Track Listing

itunes USA Track Listing