Monster Invasion Extreme Cards – 2nd Set Details
Monster Invasion Extreme – New set details
With thanks to BBC worldwide…
Doctor Who Monster Invasion Extreme is the second set and contains 180 new cards featuring all the latest monsters, characters and adventures from the series, and includes a new and truly terrifying lenticular infinite card. This brings a combined total of 345 cards.
Its launch coincides with issue 11 on sale 28 September 2011. Further images will be available on that date.
The second tin contains five packs of brand-new Doctor Who Monster Invasion Extreme cards and comes with an exclusive official autograph card featuring Rory's signature by Arthur Darvill (pictured).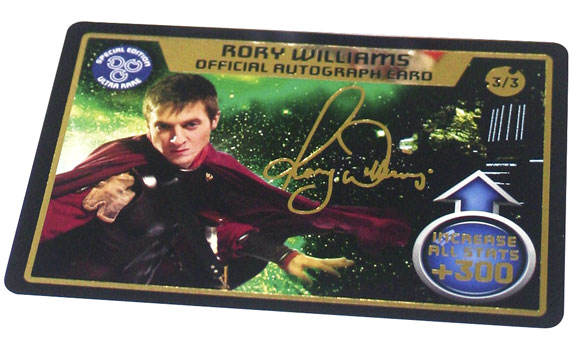 There will also be an official Doctor autograph card which comes free with issue 11 and an official Amy autograph card which is only available to subscribers who opt in to buy one (very limited edition, only about 5,000 being made)
Start collecting the awesome NEW Doctor Who Monster Invasion and build up a mega-monster magazine and cool trading card collection.
You can subscribe Here on the official site where you will find all you need to know about Monster Invasion magazine.
For email enquiries doctorwhomi@dbfactory.co.uk
Telephone enquiries 0871 277 0190