B&M 2021 History of the Daleks #7 Figure Set
Character Options is delighted to announce its first new wave of Doctor Who action figure sets for 2021 with four new lines scheduled to arrive in B and M stores across the country in Mid-August.
This exciting launch will introduce two more action figure trios plus two additional special collectors' packs for Dalek Fans. Each and every set of this detailed series will include highly detailed 5.5 inch scale figures featuring multiple points of articulation and come presented in the 'heritage' Doctor Who packaging with specially created insert artwork.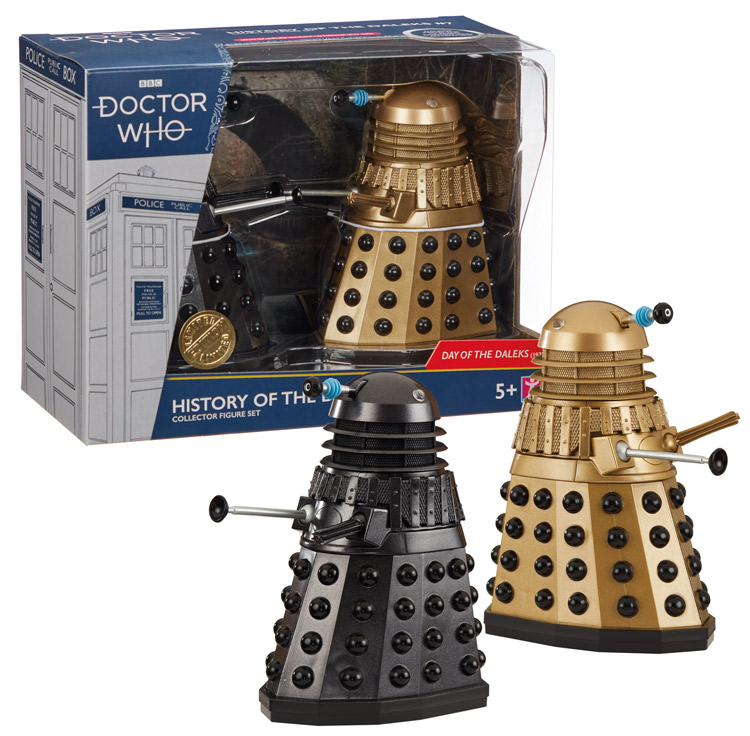 We jump one story forwards to the next decade to 1972's 'Day of the Daleks' and The Daleks' first foray into colour TV with Collector Set #7 which celebrates this four part story first shown in January of that year. In this set you'll find the highly detailed Gold Supreme Dalek and Grey drone Dalek as seen in the episodes. Considered a classic among Doctor Who fans, this episode saw the Third Doctor and his companions Jo and U.N.I.T take on Time Travelling guerrillas, Ogrons and the Daleks, in a bid to avert World War III.
Al Dewar Character Options' Creative Director said: "Once again we are delighted to be working with B and M in bringing a fresh new collection to the legions of fans. This substantial line up represents some of the finest early Doctor Who episodes and will be familiar to many from diehard fans to adults that spent their child hoods hiding behind the sofa at teatime!"