B&M 2022 10th Doctor Figure Set
Missed Something? You can see every Collectors Series Set in our Interactive List.
Stocks have now arrived. Comments on this item be now be left in the Stocks Arrived Post.
Character Options is pleased to announce the next wave of Doctor Who figures for summer 2022, scheduled to land in B&M stores in September (but down to B&M when they put them out).
Each new addition to this line forms part of the 5.5" figure range and features new decoration as well as multiple points of articulation. The new sets come packaged in the familiar 'heritage' style Doctor Who collector packs; though, this time, there are a few changes that eagle-eyed fans might notice.
In this set, we have three all-new variants of the Tenth Doctor. The first figure depicted is the Tenth Doctor in his slightly brighter blue two-piece suit, pale blue shirt and burgundy tie that's specifically tied to look like it did in The Wedding of Sarah Jane Smith parts one and two.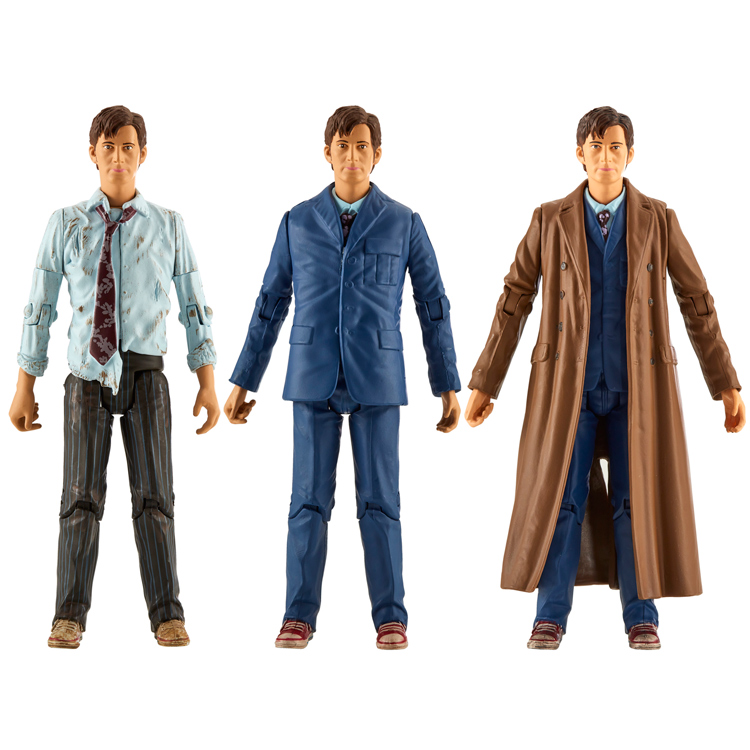 The second figure is based on this same story but sees the Doctor wearing his iconic long duster style overcoat. The final figure of the Tenth Doctor is inspired by the comic book series The Tenth Doctor Adventures. This figure has a particularly 'ragged' look, with dirtied blue shirt, tie worn askew, and lower forearms exposed.
Al Dewar Creative Director commented "I think and hope the fans and collectors will really like these new sets. We have really spent time updating the look of the figures to make them different. The Eighth Doctor set, especially the TV movie and NOTD figures are a real delight and have a much more sophisticated look, befitting a modern action figure. I think they are the best yet. The Tenth Doctor sets have a very different and fresh feel and come with two never released variants. The Dalek sets not only feature new packaging, but we have finally brought to the fans the Dalek Supreme and a fully transparent Dalek from Planet of the Daleks! And The Death to the Daleks set is also very close to my heart!"