Big Finish The Eighth of March
Available to order from www.bigfinish.com
In celebration of all the strong female characters from the Doctor Who universe, a female lead cast, along with female writers, producer and director, has come together for an audio box set like no other.
The Eighth of March, scheduled for release on International Women's Day 2019, explores merely a fraction of the amazing female characters of more than 50 years of the iconic BBC Studios television show.
Starring Ace (Sophie Aldred) and Professor Bernice Summerfield (Lisa Bowerman), Professor River Song (Alex Kingston) and Leela (Louise Jameson), UNIT-team Kate Stewart (Jemma Redgrave) and Osgood (Ingrid Oliver) and, in a Big Finish first together, Madame Vastra (Neve McIntosh) and her wife Jenny (Catrin Stewart). This box set celebrates these powerful, multifaceted characters in stories very unique to the Doctor Who universe.
Four adventures set on the 8th of March will see some of the strongest women in the universe working together…
Emancipation by Lisa McMullin
The Big Blue Book by Lizzie Hopley
Inside Every Warrior by Gemma Langford
Narcissus by Sarah Grochala
More story details to follow.
Written By: Lisa McMullin, Lizzie Hopley, Gemma Langford, Sarah Grochala
Directed By: Helen Goldwyn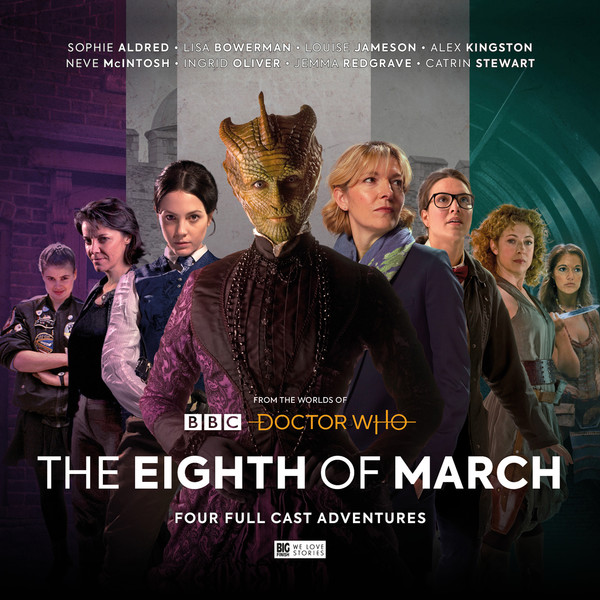 Cast
Sophie Aldred (Ace), Lisa Bowerman (Bernice Summerfield), Louise Jameson (Leela), Alex Kingston (River Song), Neve McIntosh (Madame Vastra), Ingrid Oliver (Petronella Osgood), Jemma Redgrave (Kate Stewart), Catrin Stewart (Jenny Flint), James Joyce (Josh Carter), Tracy Wiles (Jacqui McGee).
More cast details to follow.
Producer David Richardson & Emma Haigh
Script Editor Matt Fitton
Executive Producers Nicholas Briggs and Jason Haigh-Ellery