Build Your Own Spooky Adventures!
Build Your Own Spooky Adventures!
Character Building has some great new additions for 2013, with TV favourite Scooby-Doo turning constructable, along with the terrifying Monsters vs. Zombies and 50th Anniversary Celebrations for Doctor Who!
Character Building Scooby-Doo will be launching in Spring 2013 and features the whole Mystery Crew as constructable micro-figures. There are also plenty of spooky monsters for fans to collect and, what's more, they can swap monster parts around to create the ultimate foe to take on those pesky kids!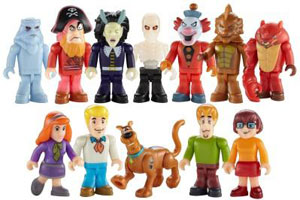 Fans can collect and construct Scooby's world with their very own Mystery Machine Playset that opens to reveal a control centre featuring spooky specimen jars and monster radar.
The iconic vehicle also includes Fred with his mystery motorbike that fits into the back of the van! You can also re-use the bricks to create a giant trap and dump bricks on your monsters! No Scooby collection will be complete without a Mystery Mansion Playset that features loads of monster-catching traps! Use the opening turrets to explore every spooky nook and cranny of the mystery mansion and catch those scary monsters!
Alternatively, construction goes Sci-Fi with Doctor Who as the show celebrates its 50th Anniversary in 2013. The Doctor's celebration kicked off early at the end of 2012 with the new Series 3 Micro Figures, depicting the Eleventh Doctor and some famous foes from the recent episodes and complete with a few hundred super rare figures hidden among the foil bags.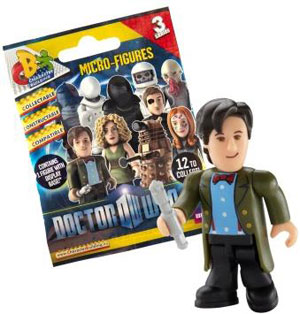 There's plenty more to come in 2013 too; kids and collectors alike will desperate to get their hands on the new constructable playsets based on the upcoming Series 7 part 2, along with the fantastic Dalek Skimmer and Cyberman Speeder vehicles.
Kids will also be introduced to the Eleventh Doctors new TARDIS; a highly detailed construction playset that features the new interior console room which should delight fans and allow them to join the Doctor on even more of his adventures!
An altogether spookier take on construction is launching in spring is Monsters vs. Zombies. There are 12 micro-figures to collect, of which eight glow in the dark! However it's with the playsets that things get really gruesome… with ghoulish goo! Most sinister of all is the Laboratory of Doom playset, where boys can create their own army of Zombie Soldiers before covering them in some serious slime! Join Baron Samedi and the Zombie Bride at the Crypt of Terror where disaster looms! As the walls of the building collapses, the scary floor tilts and barrels of goo spill everywhere… mwahahaha!