Cluedo Classic Mystery Board Game

UK release available to pre-order from www.bbcshop.com

Also available to pre-order from www.amazon.co.uk

Also available to pre-order from www.forbiddenplanet.com
Missy, formerly the master, escaped from Gallifrey when the Doctors freed the planet from the Time War in The Day of The Doctor. Now, only she knows its whereabouts.
But as she watched the Doctor and Clara on their adventures through season 8, she left a vital clue to its whereabouts somewhere in space and time and one of the doctor's enemies has found it. Can you figure out what the clue is, where she left it and who holds the key to locating Gallifrey and sending the doctor home?
Box Contains
1 x 6 tokens; 6 weapons; 6 suspect cards; 6 weapon cards; 9 location cards; Case closed envelope; 2 dice; instructions; 1 pad.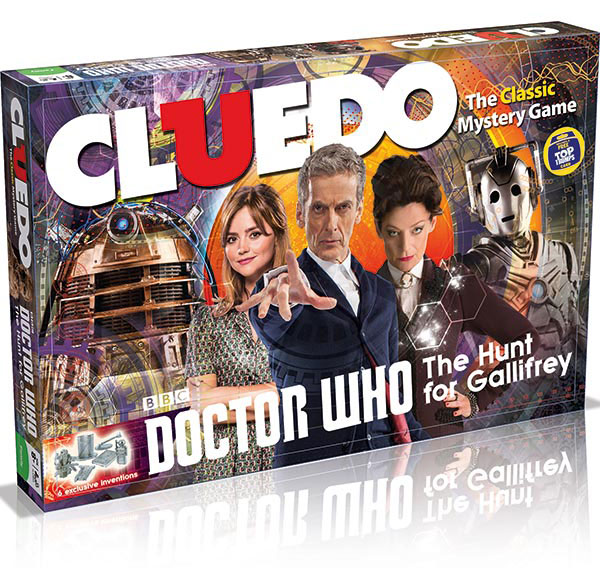 ---
Doctor Who Clue Classic Mystery Board Game (USA)


Available to order in the USA from www.amazon.com

Also available to order in the USA from www.entertainmentearth.com
Doctor Who CLUE places your favorite characters on a search through the Universe to rescue The Doctor.
Playing as his closest friends and allies, players must reveal who amongst them the Daleks conditioned and mind-controlled to mislead the Doctor, what powerful weapon was used in the crime, and where The Doctor has been taken in the kidnapping, thereby saving him from the Daleks!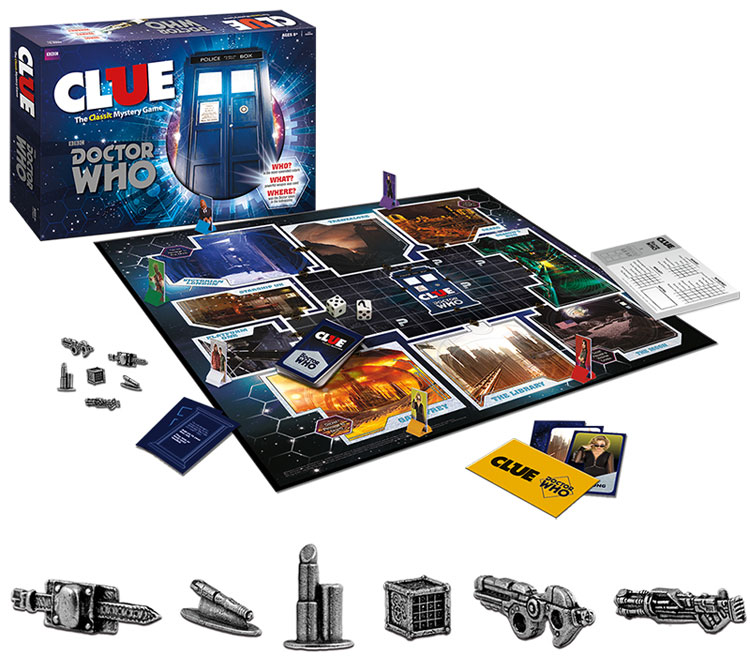 Set includes…
6 Suspect Movers & Personality Cards: Amy & Rory, Commander Strax, Madame Vastra, Clara Oswald, Jenny, River Song
6 Custom Weapons: Hallucinogenic Lipstick, Clara Cyberman Gun, Vortex Manipulator, Strax's Gun, Sonic Screwdriver, and The Moment
Custom Game Board features famous planets visited by The Doctor
21 Intrigue Cards: 13 grant player abilities and 8 Pocketwatch Clocks