Celebrating 50 Yrs of Doctor Who Fandom Blu-ray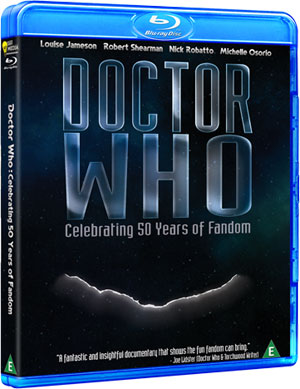 Doctor Who: Celebrating 50 Years of Fandom – Blu-ray
In November 2013, Doctor Who celebrated its 50th anniversary, and we made sure to join in the celebrations!
Doctor Who: Celebrating 50 Years of Fandom explores what makes Doctor Who fans special, and how not only has the show influenced them, but how they have influenced the show itself!
We speak to stars of the series, academics, film-makers and even members of the productions team.
Most importantly, we speak to the fans, as without these passionate fans, Doctor Who wouldn't be back on our screens for it's 50th anniversary celebration and this film would never have been made.
Special Features: Over 60 minutes of special features, including extended interviews with Louise Jameson and Robert Shearman!
This item can be ordered from www.fliptheswitchmedia.com
Starring:

Louise Jameson – Actress (Leela, companion to the Fourth Doctor)
Robert Shearman – Doctor Who Writer
Nick Robatto – Doctor Who Prop Builder
Michelle Osorio – Doctor Who Fan from California
John Paul Green – Academic And more!
NOTE: The Blu-ray is Region Free so can be played on any Blu-ray player around the globe!
Watch the trailer below: