Doctor Who Adventures issue 351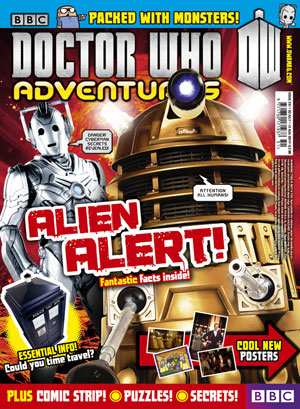 Doctor Who Adventures issue 351
Where is the most unusual place you'll take Doctor Who Adventures magazine this summer?
Don't forget to pack your copy of BBC Doctor Who Adventures magazine this summer! If you're photographed reading your mag in an unusual place, you could win you a Doctor Who goodie bag…
Doctor Who Adventures Editor Moray Laing says: "Whether visiting friends or relatives next door, heading off to a beach… or even popping off to an alien planet or a different time zone – we want to see pictures of readers reading the latest issue in unusual places.
We'll print the best and funniest pictures in a future issue – and our favourite photograph will win a prize!"
Grab the latest issue for more details.
Plus:
· The latest news
· Top tips for being the Doctor's companion
· A guide to the Eleventh Doctor's stories
· Top 10 TARDIS trips
· Dalek secrets about the Dalek Emperor
· Strax's Guide to the Cybermen
· The Eleventh Doctor appears in the comic strip for a final adventure, written by former script editor Andrew Cartmel
· A look at filming of the latest series
· And puzzles, posters and more cool things to win!
Issue 351, on sale 30 July – 12 August 2014, priced £3.99. This bumper issue comes with four amazing gifts – a TARDIS key ring, notepad, stickers and a sonic pen! Don't miss it.