50th Anniversary Bear by Steiff
Doctor Who 50th Anniversary Bear by Steiff
Limited edition!
Only 5,000 bears can ever be made. Act now!
Fifty years may seem like a short time to The Doctor (travelling backwards and forwards in time, he's even forgotten how old he is!), but 50 years is an anniversary that rarely occurs in television.
To celebrate, Steiff – makers of the world's first teddy bear – have created a special limited-edition Doctor Who bear, exclusively for Danbury Mint.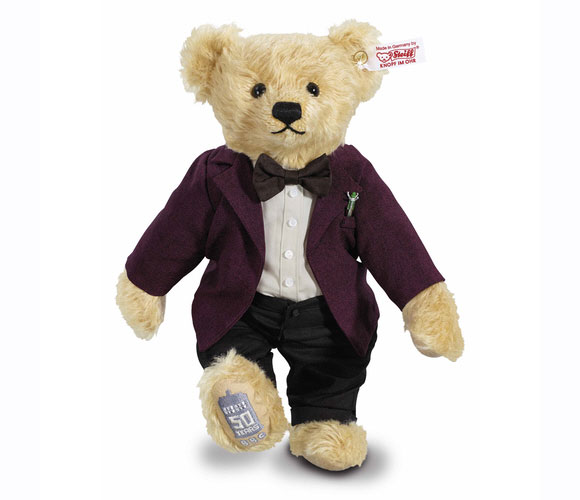 The master craftsmen and women at Steiff have perfectly captured the spirit of the renegade Time Lord. His gloriously soft blond fur is made from real mohair, the precious coat of the Angora goat. Just look at that mischievous twinkle in his eyes – is he about to embark on another time-travelling adventure? He's dressed as the Eleventh Doctor with his characteristic bow-tie ("Bow-ties are cool" says The Doctor). And of course, there's space in his pocket for his trusty Sonic Screwdriver.
His paw pad is embroidered in silver grey thread with the special 50th anniversary Doctor Who emblem. Finally, attached to his ear is the famous Steiff 'button-in-ear' – your guarantee that he's a hand-crafted Steiff original.
The Doctor Who 50th Anniversary Bear is being made in a strict limited edition. Not only is he available exclusively from Danbury Mint, but only 5,000 bears can ever be made for worldwide demand. Each bear is numbered so ensure the lowest available number by reserving your bear now!