Win a Fantastic TARDIS Speaker System (Closed)
With thanks to www.whosounds.com
Win a Doctor Who TARDIS Speaker System Worth £150
This competition will run for several days over Christmas and the New Year and end without warning.
The TARDIS is a product of the advanced technology of the Time Lords, an extraterrestrial civilization to which the Doctor belongs.
The TARDIS Speaker is the only TARDIS speaker in the World, not even on Gallifrey do they have one!
Awesome sound that you would expect from the Doctor. Magical features to give you the enjoyment of owning the only TARDIS speaker ever to be made.
With Bluetooth connectivity you can pair any smartphone or Tablet to this beautifully detailed manufactured speaker.
Connect and enjoy wireless sound that will transport your music anywhere around your home or office. No docking required, as soon as you come into the room the unit will recognise your pairing and be ready to play at your request.
With built in digital speakers and subwoofer it is definitely bigger on the inside! A quality of sound you could only expect from a highly technical Time Lord.
Available to order in the UK from…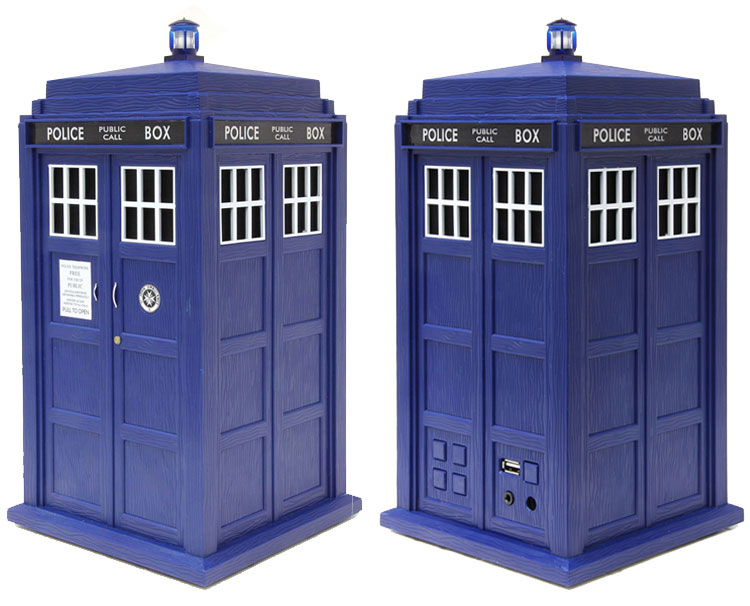 ---
How to enter
You can either leave a comment as per our usual rules OR enter by email if you prefer (but not both)
To enter by email…
Please include "Tardis Speaker Competition" in the subject line, that's all you need to do. (same rules as comment entries apply)
Send to:
For Comment entries – Just leave an appropriate comment of some sort (wont make any difference what you say) and a valid email address in the marked box ( email address will not be seen by anyone else and only used by ourselves to pick a winner).
All the Usual Rules apply:
One entry per email / ip address /person. ( You must ask permission if using parents/guardians).
Email Address must be valid, your own, or used with owners permission otherwise we wont be able to contact you.
UK Only
If the winner doesn't respond within 5 days we will pass to the next person. Please do not leave any follow up comments.
The system we now have for choosing winners means it doesn't matter if you post 1st or last, everyone will stand an equal chance of winning.
We reserve the right to delete ALL posts from anyone attempting multiple entries and exclude them from future competitions.
Please use ask a question if you need more information.