Ride-In Dalek In Argos Top 15 Christmas Toys
Ride-In Dalek In Argos Top 15 Toys
The ride in Dalek from Zappies featured earlier this year is amongst the top 15 best selling toys as predicted by Argos. You can read the article and see the full list Here.
The Boys' toys list
Nerf Vortex Proton – Hasbro
Dr Who Dalek Ride-In – Kids@Play (currently limited stock, full stock available from October 10th)
Bop It XT – Hasbro
Disney Pixar Cars 2 Secret Spy Attack Finn McMissile – Mattel
LEGO Star Wars Sith Nightspeeder – Lego
This astounding 'ride in' Dalek stands over 50″ tall and arrives complete with 360 degree movement, 10 sounds 'n phrases, lights inside the sitting unit plus comes with 6v rechargeable battery.
Let your kids go exterminate at will! Recommended for children aged 3-6 years.
Specifications…
*Height – 4ft 5″
*Mechanism – 360 degree movement.
*Sound – 10 sounds and phrases
*Lights – Inside sitting unit
*Battery – 6v
*Material – Sitting Unit – ABS Plastic, Dalek Shell – Balistic Nylon
*Age Recommendation – 3 – 6 years
*Max child's weight – 30kg
Rechargeable battery and battery unit supplied.
The Red and Blue ride in Daleks…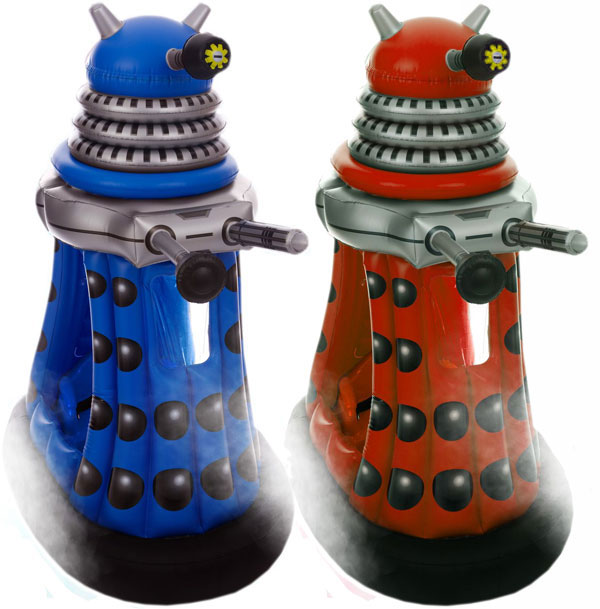 The White ride in Dalek is exclusive to Argos…