WhoNews Doctor Who News App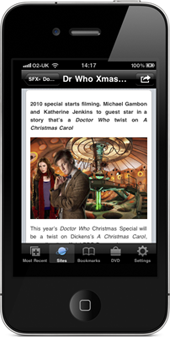 Doctor Who News App
WhoNews brings you the latest news from all your favourite Doctor Who, Torchwood and Sarah Jane Adventures websites in one easy to use application on your iPhone, iPad or iPod Touch. Click the App Store image to purchase.
WhoNews has regenerated with brand new features:
* One universal app for iPhone, iPad and iPod Touch buy once and use on all your devices.
* Most recent news view – time ordered news from over 30 websites.
* Off-line browsing – read the latest news at your leisure.
* News is downloaded in bulk from over 30 sites. A resilient server compiles the latest news every 15 minutes ready to be downloaded by WhoNews.
* Bookmark your favourite news for rapid access.
* Email and post articles or DVDs on Facebook, Twitter, Google Reader, Delicious, Tumbler, Pinboard, Read It Later
* The cheapest Doctor Who, Torchwood and Sarah Jane Adventures DVD/Blu ray prices in the UK & US from all your favourite internet stores.
* Over 20 UK retailers compared including Amazon, Tesco, Zavvi, The Hut, SendIt, LoveFilm, Asda, Woolworths, HMV, Play, BBC Shop, DVD Source, MovieMail
* US price comparison from Amazon US, Betam Online, Deep Discount, DVD Magnet, CD Universe, Music Import, DVD Empire and Yes Asia
* Use the in-built browser to visit a news site or buy a DVD direct.
For full information click Here or go to the iTunes page Here