Whoblique Strategies (Charity Book)

Available to order in the UK from www.amazon.co.uk

Available to order in the USA from www.amazon.com
Edited, conceived and commissioned by ELTON TOWNEND JONES
1977: Brian Eno and David Bowie apply random oblique strategy cards to the recording of Bowie's Low and "Heroes" LPs. From rock 'n' roll comes a new kind of art.
2017: playwright Elton Townend Jones and his Vortex of Wholigans apply the same strategy cards to every Doctor Who TV story. From time 'n' space comes a new kind of magic.
Over 275 stories, over 275 bursts of fast fiction, 70 writers, 16 Doctors, and a whole new adventure across the history of everyone's favourite Time Lord. In aid of Children In Need (all profits after printing costs).
Sleeve Art by Simon A Brett. From Chinbeard Books, November 2017.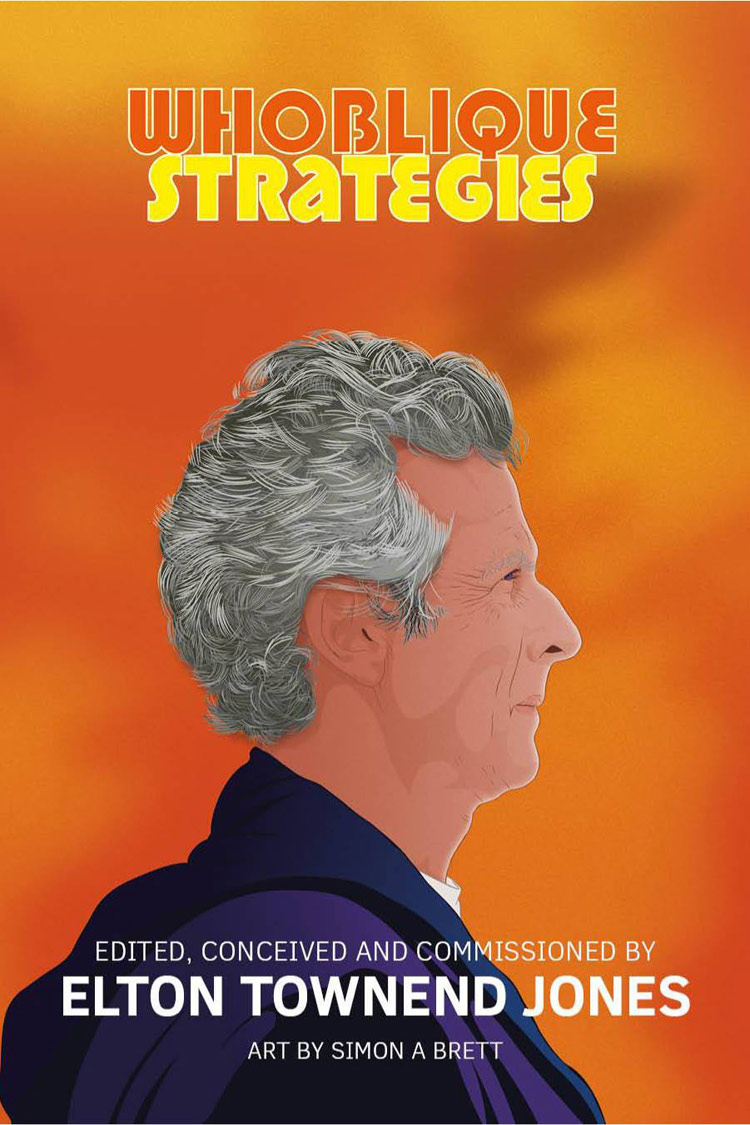 Following the publication of the charity fan fiction anthology A Time Lord for Change (edited by Elton Townend Jones) in 2016, playwright and theatre producer Elton Townend Jones brings together 70 professional and fan authors to create a 'concept album' that takes the works of Brian Eno, David Bowie and Doctor Who and builds something new from them. This is Doctor Who as we know it, but also not-quite. A skewed, liberated reading of the Time Lord's television adventures through a mirror crack'd. A magical apocrypha that breaks the rules and has no plan for putting them back together. That's for the reader to sort out. A collection of stories, a box of fireworks, and a lot more besides.
Featuring 275 fiction pieces specifically commissioned by Elton Townend Jones, Whoblique Strategies features work from a Vortex of Wholigans, a carefully selected team of writers who have worked for BBC, Big Finish and DWM versions of Doctor Who, and writers from other disciplines such as music, poetry, journalism, and academia – many of whom are Bowie, Eno, or Doctor Who fans, and new to 'fan fiction' – plus a number of dedicated fan writers.
Writers: Elton Townend Jones; Simon Messingham; David A McIntee; John Dorney; Simon A Forward; Ian Potter; Simon Bucher-Jones; Paul Ebbs; Matthew J Elliott; Alistair Lock; Andrew Hunt; Blair Bidmead; Ira Lightman; Dan Rebellato; Matt Adams; Andy Priestner; Sami Kelsh; Christian Cawley; Paul Driscoll; Tim Gambrell; JR Southall; Christopher Samuel Stone; Matt Sewell; John Gerard Hughes; Daniel Wealands; Craig Moss; Kara Dennison; Sarah Di-Bella; Hendryk Korzeniowski; Brendan Jones; Will Ingram; Ash Stewart; Christine Grit; Nick Mellish; Mark Trevor Owen; Dan Milco; Ken Shinn; Jon Arnold; Jon Dear; Brad Wolfe; Matt Barber; Georgia Ingram; Alan G McWhan; Alan Taylor; Aryldi Moss-Burke; Warren Cathrine; Townsend Shoulders; Marius Riley; Simon A Brett; Lee Ravitz; Robin G Burchill; Callum Stewart; Tessa North; Ian Baldwin; Philip Bates; Alex Spencer; Lee Rawlings; Steve Watts; Ian Kubiak; James McLean; Gareth Alexander; Liam Hogan; Clive Greenwood; Stephen Aintree; Barnaby Eaton-Jones; Ruth Wheeler; Martin Tucker.
Available from www.chinbeardbooks.com