The Companion Chronicles 4.12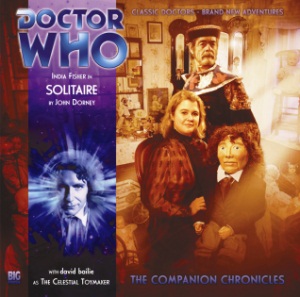 The Companion Chronicles 4.12 Doctor Who – Solitaire
"What if there were a game you didn't know you were playing? Where you didn't know the aim and you hadn't seen the rules?"
Charlotte Pollard arrives in a toyshop, but she doesn't know where she is – or even who she is. The mysterious owner wants to play games. He's the Celestial Toymaker, and he has already defeated the Doctor, whose essence is hidden inside a ventriloquist's doll.
The Doctor is gone. The TARDIS is lost. But the game is only just beginning…
India Fisher (Charley Pollard), David Bailie (The Celestial Toymaker)
To Buy or Download This CD or to see full details on this and other Audio CD's and books go to the Big Finish Website Here
Released 30 June 2010
Other Places of interest
www.simonholub.co.uk – Designer of various Big Finish Covers


Companion Chronicles Season Five news…
Big Finish has revealed that Andrew Smith, the writer of the 1980 TV story Full Circle, is to pen a forthcoming release in the Companion Chronicles series.
The fifth season of the Chronicles begins in July, kicking off with The Guardian of the Solar System by Simon Guerrier, which stars Jean Marsh as Sara Kingdom. "The clue is in the title," says producer David Richardson. "Yes, the story brings back Mavic Chen, the spectacular villain from The Daleks' Masterplan, who once again is out to fulfil a grand scheme and will be putting the Doctor, Sara and Steven in dire peril.
"This story actually brings our first Sara Kingdom trilogy to an end," he divulges. "And it's a very emotional finale – be warned!"
Echoes of Grey follows in August, with Wendy Padbury reprising the role of Zoe Heriot. The script is written by John Dorney, and features the 1969 team of the Second Doctor, Zoe and Jamie.
September sees the release of Find and Replace by Paul Magrs, in which Katy Manning returns as Jo Grant. "And Katy's not just playing Jo," Richardson reveals. "She's also playing the outrageous time traveller Iris Wildthyme too! And, just to top it all, we've got Alex Lowe back as Huxley, the mysterious narrator from Verbatim Six – a character who made a huge impression in last season's Ringpullworld."
October's release, The Invasion of E-Space, is penned by the aforementioned Andrew Smith and performed by Lalla Ward. "I was at a convention in Glasgow last year, and Andrew and I got chatting," says Richardson. "He was very keen to write a Companion Chronicle, and I thought it would be fun to set it during the E-Space Trilogy, and feature the Fourth Doctor, Romana and Adric."
Popular senior citizen companion Evelyn Smythe returns for A Town Called Fortune in November, which is written by Paul Sutton. "We've had a huge number of requests for the return of Evelyn," says the producer, "and I can promise you'll hear much more of her in 2011. This story is an historical adventure, which takes Evelyn and the Sixth Doctor into the Wild West during the Gold Rush era."