The Big Friendly Button's 3.75″ Dalek Review
The Big Friendly Button's 3.75″ Dalek Review
Today we will be having a look at the 3.75 Dalek from last years Doctor Who figure range.
Seeing as I own all three variants I will review the basic specs of the figure itself and then go deeper into the different aspects of the two variants.
Right lets start off with first impressions.
The Dalek itself is a pretty good for a figure, Ray Cusick's and Terry Nations little pepper pots of doom have been captured almost immaculately in every detail. When compared to its 5inch cousin it just shows how good Character have managed to capture the detail within a smaller figure.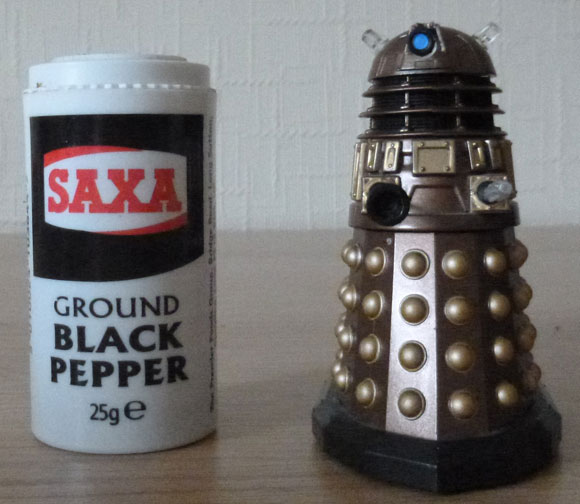 The Dalek features the all too familiar bronze colouration with a gold trim, this design has been used for a long time and it is proven as the superior as they re-replaced the Paradigm as the common design. But there have been other variations of colour including Black for Dalek Dec, Red for the Supreme Dalek and Green for the Ironsides.
The detail of the Dalek has almost been completely copied over from the far bigger 5inch Dalek, even the small elevation on top of the stalk guard had been recreated, it shows how faithful character can be to recreating figures. The Daleks is almost a complete recreation when compared to its older counterpart… except for one little problem.

When you look at the 5inch Daleks eyestalk you will notice that the wheel that moves the eyesyalk up and down is black, when compared to the 3.75 it is completely clear plastic with almost no detail what so ever.
I am not sure is this was a overlook on Characters part, but this is something they need to consider those who look into detail like me might be a little put off.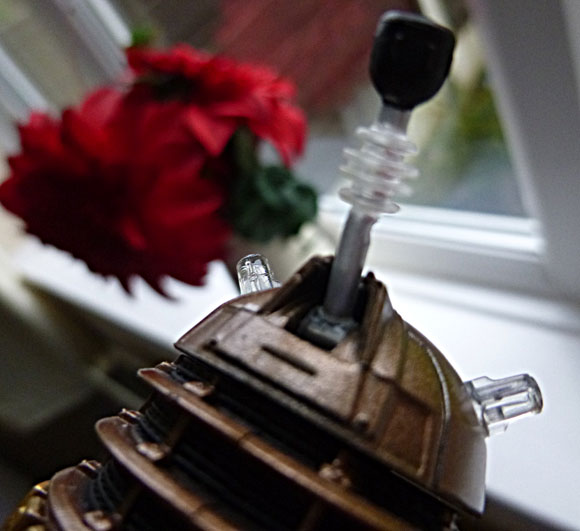 When it comes to articulation you could say the Dalek is fully articulated. It features:
A ball jointed gun and plunger arms.
A swivel dome section.
A ball hinged eyestalk
although be warned that the eyestalk does not sit out far so do not try to make the Dalek look down.
Two wheels and one articulated wheel to provide 360 degree movement in all directions.
That's about it technical wise, now onto the variants.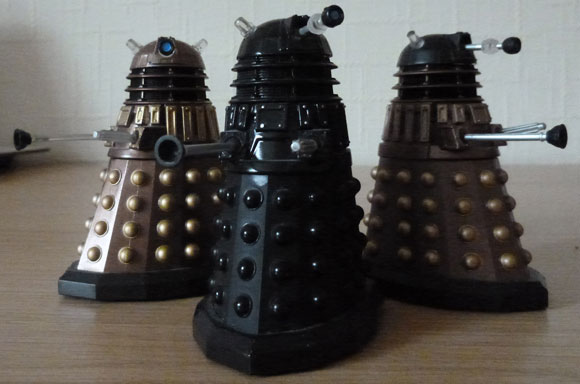 Royalty first…
This is the Imperial Guard… or guard of dust as he has no Emperor to guard anyway. This is simply a rehash of the Bronze Dalek just with a black dome section. These types of Dalek were seen protecting the Emperor in the finale of the revived series. They did nothing… they just floated there… and when the Daleks were destroyed by Rose they did not even try and save him… they must have had lousy paychecks.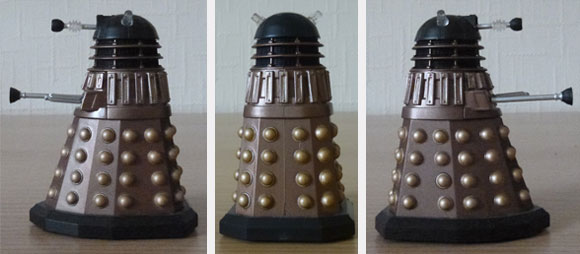 Now by way that there are two types of this figure out there, the one I own seems to have a shortened gun and the shoulder slats are not coloured properly. So just be careful if you are planning on picking up one. Also on a little note as i have discovered, the Daleks plunger can be removed, i am not sure if this is the case with other Daleks as I have not tried but it still need to be pointed out.
Now in the event you are planning on buying this figure, you will find that on places like Ebay they are being sold for over the retail price and are being branded as Chase variants even when the head of development himself stated that they were not, so just be careful about that.
The best price you will find is roughly £20.00 which I think is reasonable. I suggest you have a look at Who Blackpool as they should have them for a reasonable price, Just keep an eye out for that short gun.
The Last variant is Dalek Sec…
Now sec has always been one of my favourite supreme's, and his 3.75 immortalisation is no exception.
This Dalek sec is a complete repaint of the 3.75 Dalek and by Rassilon does he look good! He is perhaps my favourite version of the 3.75 Dalek out of the three current variants. In terms of colour he features two types of black paint.
For most of his body it is the matted black and for the Spheres, Slats and Head they are a glossy paint. I personally find the contrast of glossy and matt a perfect compliment to the figure.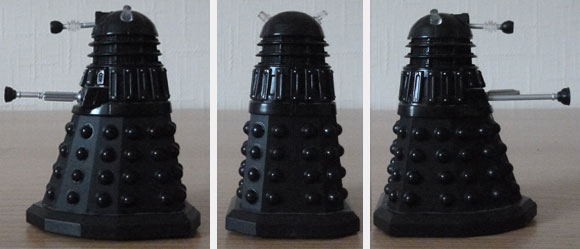 I consider Dalek sec to be the supreme Dalek of the 3.75 Dalek range, now with him being a chase figure trying to find him will be a little bit of a challenge. I managed to find mine down to pure luck and timing. Dalek Sec is a limited edition release over here in the UK but is a general release over in the United States and Australia.
Now depending on how much you are willing to spend I would suggest that you consider importing the figure as it will save alot of time and hassle but DO NOT import it if you do not have the cash to spare as it may be a rare figure, but at the end of the Day all it is just a piece of plastic.
Dalek sec is a complete treasure to own within by collection of Daleks and I am sure he will be the same for you.
Last comments…
All in all the Daleks in general is the perfect figure for all fans of the supreme beings and all fans of Doctor who in general, it is small which makes it cheap and more cost effective to army build with typical Daleks pricing at £7.00 you can't really go wrong.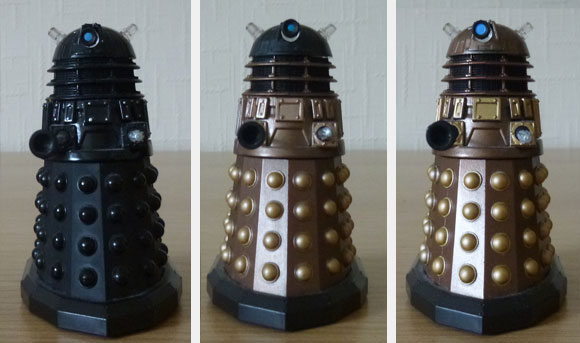 But if you are planning on getting these figures I would suggest you do it soon as they will soon be replaced by two new variants, so get buying these guys while you still can.
Dalek 8/10. Great figure but it just need that clear eyestalk wheel sorting out.
Dalek Imperial Guard 7/10. Great addition but just be careful about that gun.
Dalek sec 10/10. By far the greatest Variant to date, unless they bring out the Red Supreme.
In terms of size it comes in relative scale with other 3.75 figures allowing you to do a Star Wars and Doctor Who crossover or what not, it is of course dwarfed by its older cousin but there is not surprise there.
But there is one comparison that has to be made, the oldest comparison in the universe the one Whoivans have been running from all their lives. Is the Dalek in scale with an actual petter pot?… YES!. And with that we bring this review to a close!
You have just been reading a review by The Big Friendly Button, but you can call be Luke.
ALL HAIL THE DALEKS!!!!!!!!!