Sci-Fi & Fantasy Modeller 33 – Defending Arcadia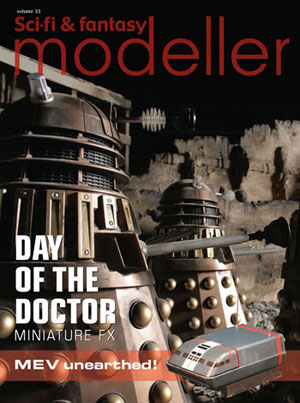 Sci-Fi & Fantasy Modeller 33
Announcing Volume Thirty-Three of Sci-fi & Fantasy Modeller, the title that delivers one hundred color pages of essential reading and superb images to genre modelers.
Volume Thirty-Three's lively line-up of exclusive step-by-step features, builds, and superb photography reports on all that's new and exciting in mainstream and garage kit releases, unearths classic FX miniatures, reveals creepy creature kits, offers skill-expanding modeling techniques and more.
Sci-fi & fantasy modeller magazine Volume 33 is due in April and available to pre-order now from www.forbiddenplanet.co.uk
Volume Thirty-Three's must-read contents include:
Defending Arcadia – creating miniature FX for Day of the Doctor!
Batwing against the moon diorama!
Fantastic Plastic Quinjet!
New BSG Viper colours and mini-diorama project!
Captain Cardboard huge 15" diameter 2001 Aries 1B!
Captain Scarlet/Thunderbirds original Martian Excursion Vehicle filming miniature tracked down and renovated! Awesome shots of this rarest of models!
USS Defiant and Enterprise-C re-releases customised!
Scratchbuilt Captain Nemo rifle!
Converting the BIG Forbidden Planet C-57D kit!
New Stingray replica puppets feature!
Round 2 Saturn V factual and fanciful!
Barry Ford's amazing Creature From the Black Lagoon build!
The return of 'Hot From the Mould'!