Review – Why Classic Who DVDs are the Best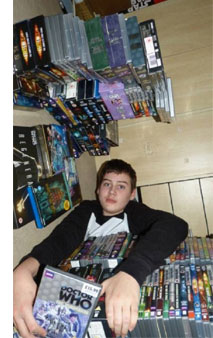 Review – Why classic who DVDs are the best
By Jake young
Hi all, this is my first article/review for this site, so thanks doctor who site for publishing it! (*winks*) .
If you already didn't tell from the title (if you really didn't, you might need to see the a Doctor), this page is going to define some of the best classic who DVDs out there.
Yes, not just the story's, but everything included like extra's ect.
There will be 3 episodes for each category, and at the end I shall reveal what my personal all time favourite classic who DVD is….so far!
The main points I am going to be looking at in order to tell some of the best classic who DVDs out there and Why classic who DVDs are the best "Ha, he said it!" are as follows:
The story's
Extras
Packaging
Price
So without any further boring adieu from me, let's begin…
---
Story's
Good story's are usually the episodes you want to watch in your bed at 10/11PM in the evening as you are relaxing and are nearing sleep. Doctor who and the Silurians is a perfect example of this, as I find myself falling asleep most times I watch it. (Not out of boredom, but out of relaxation.)
I got The Moonbase yesterday, and am planning on watching it tonight. (just putting it out there).
Out of the hundreds and hundreds of classic episodes I have seen, I must say that my top three story's for this category are Doctor who and the silurians, The robots of death and …
Underworld?!
Yes, that's right, underworld, I said it! If you haven't noticed by now, i am a 70s fan. The effects and acting might not be star wars, but hell, pretty much every story between Spearhead from space and the invasion of time is just, well, brilliant.
Out of the hundreds of potentials ones, you could have predicted I would have said The robots of death as that is a who classic. You might have even predicted the Silurians even though that isn't everyone's cup of tea. But I choose Underworld as my 3rd and final choice for this category because like the other 2, I just find it a relaxing, simple, entertaining story.
Doctor who and the Silurians 8/10
The robots of death 10/10
Underworld 8/10
---
The extra's
Extra's extra's extra's. People usually underrate the extra's don't they? I find that these are sometimes the best parts of the DVDs. There's just such I wide range of extra's from commentaries to making offs, trailers to documentary's and conventions.
The best DVD for extra's would have to be The war games, as that is just loaded with extra's, including the rather devious "Devious". If you're counting whole box sets like the key to time or trial of a time lord, then Invasion of the dinosaurs has a healthy dose of documentary's on it, including the recoloured episode 1. If you're going to count physical things as extra's, then Tom Bakers awesome 4th doctors time capsule box set comes at number 1.
4th doctor time capsule set 10/10
The war games 8/10
Invasion of the Dinosaurs 7/10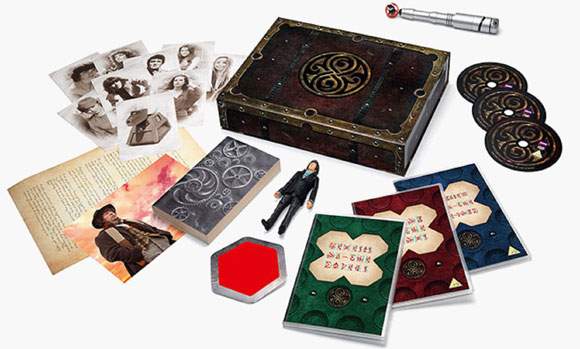 ---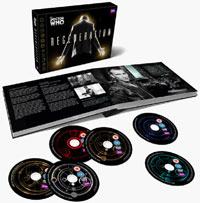 The packaging
It's sad, I know, when the best parts of the DVDs are the packaging. But the packaging is the selling point. (Well, apart from the content) It is what attracts people into buying it. If it's not got good, and there aren't even any special features on it and the price is pretty high, this is when people start watching movies using less legal ways (trust me, I know).
Fortunately though, classic who has a rare advantage where the packaging is always good, whether the story is good or bad. Thanks to the wonderful work of Clayton Hickman and Lee Binding , we have some of the best artwork on the shelf's at the DVD store.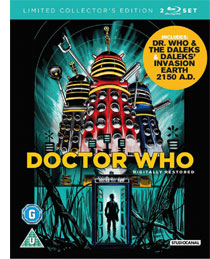 An example of this is the regenerations box set. I think only a couple of those regeneration episodes are actually good. However, because of the absolutely stunning packaging, I rank it as the most hansom and best packaging for anything I have ever gotten. Go look it up on YouTube if you've got the time. Coming at a close second is the time capsule from above. Again, go to YouTube to see how it opens up, but they are both just superb.
The final best packaged release is a normal box set (well, sort of). It is a bit controversial, as in some people don't consider it part of the range, and I see why. It's the 2 Peter Cushing movies from the 60s. Not the 2006 twin pack, but the Limited edition Blu-Ray twin pack released in May last year simply entitled "DOCTOR WHO". Pictured right, it looks simple enough. However, when in hand, it has a very nice glossy feel to it and is slightly bumpy in places. This is a bit hard to get hold of now, with some scalpers on Amazon and EBay looking from £30 to £200!
Regenerations: 10/10
Time capsule 9/10
60s movies 9/10
---
The price
Now, when it comes to the price, it varies. Massively. I mean, The ark in space (original edition) is, at the time of writing, £5.80 on Amazon. But at my local HMV, it is a whopping £19.99! My advice is if you can, buy the DVDs online, preferably stores like Amazon, BBC shop, Galaxy 4, and rarely EBay.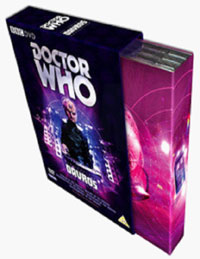 (Use EBay only as a last resort, as it is a hit and miss with the quality) The reason I say it is better to get them online is the price is generally a lot cheaper than on the high street stores like HMV.
However, if you have one near you, I would always check the deals they sometimes have on, as at this moment, my HMV has the "The time of the doctor and other Christmas specials box set" for £9.99 on DVD, and £12.99 on Blu-ray (compared to £9.99/£14.99 on the BBC shop).
Of Course, for the single DVDs the prices are generally cheap, but as you get into the box sets/limited products, the price gets increasingly annoying. The complete Davros collection, 1 of the only box sets I don't actually own which I wish I did, is a perfect example of this. I nice big box set, with only 10,000 copy's ever made. Most places have run out by now, but the ones that do still have them on sale go for £100+. Although you might be lucky and find one cheap at a DVD shop. It has been known.
I personally think that rather than sticking to one 1 retailer, you must shop around to look for the best deals. The top 3 retailers I think do the best deals currently are:
Now this is usually down to opinion. But if we take into account all the above; and try and add them together, what do we get?I'll give you some hints.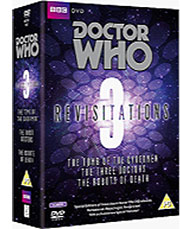 It's a box set that contains 3 legendary story's.
It's filled with extra's and was released in 2012. The price is relatively low, and the art is very attractive (even if it has hardly anything on it). Okay, I give up.
It's the Re-visitations 3 box set! You might be baffled by the choice, but it fits all the category's above which non others do. If you haven't already got it, I extremely suggest you go and get it, as it is still very cheap. Seriously, go buy it, you won't be sorry! (Well, you might if you were saving up for something much better)
---
Final thoughts
This is just for all of those who flicked down the down the page, then read the last couple of lines of the article and pretends to have read the whole thing in the comments. Go buy the re-visitations 3!
And to all those who actually read it, this is sort of a pilot review, and if I get positive feedback I might make more like this. If I get negative feedback, I will still make more just because I like watching you lot in the comments suffer. Also please tell me what your favourite classic DVDs are. I'll leave you all with some words of wisdom a wise young man once said (I think it was me): Power corrupts, but ultimate power is kind of cool 😉