Lethbridge-Stewart The Havoc Files 4
Available to order from www.candy-jar.co.uk
Candy Jar Books is pleased to announce its latest volume of The HAVOC Files, collecting short stories from early 2017 (in print for the first time) and brand new exclusive material!
The HAVOC Files 4 contains three short stories only previously available in digital format and released early 2017: United in Blood by Mark Jones; The Runaway Bomb by Nick Walters, and The Two Brigadiers by Jonathan Macho (runner-up of the South Wales short story competition 2015). It also contains five brand new stories, including the final episode of the three-part novella, The Lost Skin by Andy Frankham-Allen (episode one and two of which were published in The HAVOC Files 2 and 3).
Of HAVOC 4, Range Editor Andy Frankham-Allen says: "This is probably our most exciting volume yet, because it features five stories that are a direct result of our recent open submission period. We had such an amazing response and received so many varied ideas, most of which made it as far as the one-page outline stage. Many of those led to a commission, and HAVOC 4 presents the first five of those commissions, all by authors new to the range and, some, completely new to profesionally published fiction."
Among the authors new to range are Andrew Allen (not to be confused with Range Editor Andy Frankham-Allen), who is a Brighton-based writer, actor, director and workshop leader, as well as the co-founder and Artistic Director of Cast Iron Theatre. This collection also introduces to the range, Wink Taylor, who was a writer/actor for both Sooty and Basil Brush, as well as creator of the popular childrens' character Theo the Mouse. He is also well-known for his voice impersonations of various Doctor Who characters, notably the Third Doctor and Brigadier Lethbridge-Stewart.
The cover has been designed by Richard Young. He says: "Shaun had promised me The HAVOC Files cover since book two came out, so I was over the moon when he said that I was doing book four. I've always had the idea of using the Brig and a filing cabinet, but my initial ideas just weren't working for me. I then came up with another idea, but it was felt that this new idea was too similar to another cover I had done. Shaun and I then bounced several other concepts back and forth, trying to make the '4' the main element, and after some very minor adjustments just to tighten things up, we had something we both liked."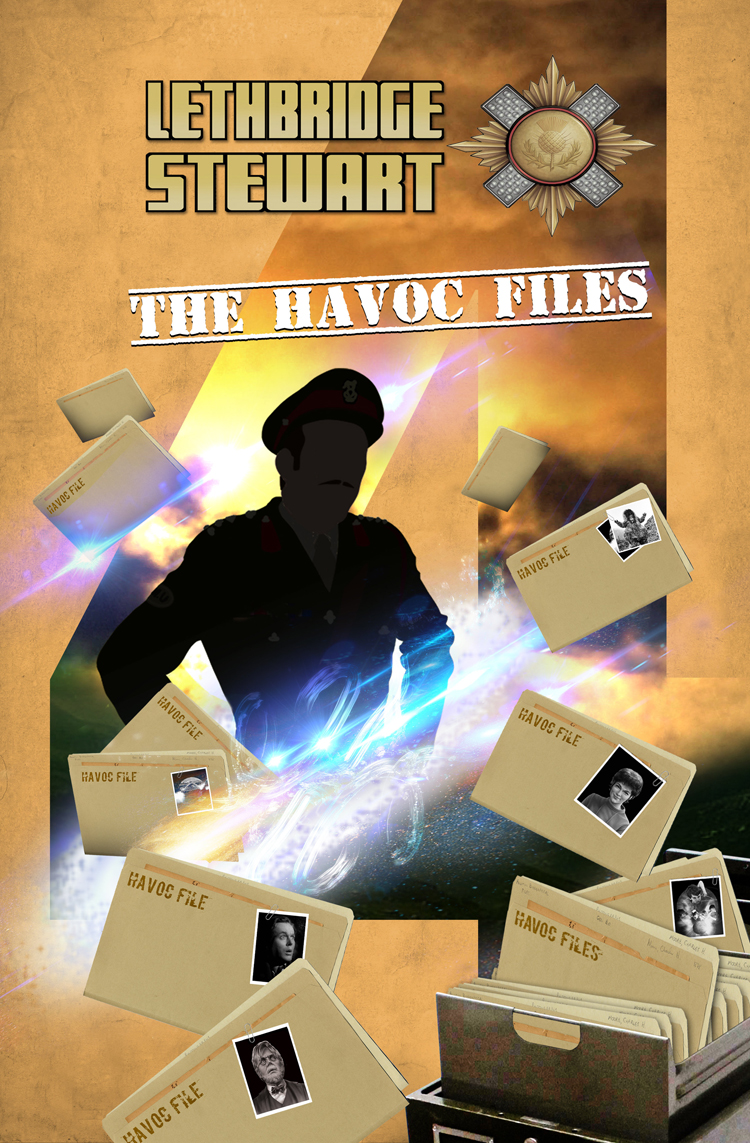 ---
Strange goings on in a small English village, training for new members of the Fifth Operational Corps, and the two Brigadiers meeting up to take on the most notorious aliens in the galaxy…
Lethbridge-Stewart encounters a unicorn in Linfield, Anne Travers and Bill Bishop go on their first official date…
Just some of the strange tales that make up HAVOC 4, which features five brand new short stories, including one by Wink Taylor, who has written for both Sooty and Basil Brush. Plus three stories previously only available in digital format, including one by popular author Nick Walters, and the final installment of the exclusive three-part novella, The Lost Skin, by Andy Frankham-Allen.
A collection of short stories from the classic era of Doctor Who, starring Brigadier Lethbridge-Stewart and Anne Travers, based on the characters created by Mervyn Haisman and Henry Lincoln
The HAVOC Files 4:
The Contented Mind by Wink Taylor
The Runaway Bomb by Nick Walters
United in Blood by Mark Jones
The Cruel Oil by Harry Draper
All the King's Men by Alyson Leeds
The Great Magician and the Spirits of the Vasty Deep by Gareth Madgwick
The Slow Invasion by Andrew Allen
The Two Brigadiers by Jonathan Macho
The Lost Skin: Episode Three by Andy Frankham-Allen
Like the previous volumes, The HAVOC Files 4 is only available direct from the Candy Jar Store for £8.99, and is a strictly limited-print run.