Journey into Space: Operation Luna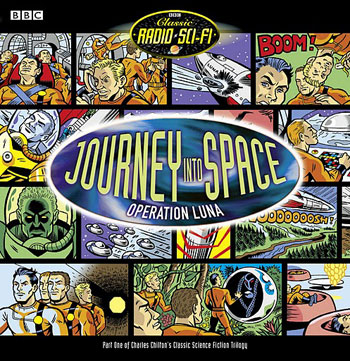 Journey into Space: Operation Luna

Prepare to be amazed as ace pilot, Jet Morgan and his courageous team, skilfully manoeuvre the rocket ship Luna into deepest space, facing adventures both terrifying and testing. Just re-released and ready for take off is this recording of the entire first series of Journey Into Space, the seminal BBC radio drama epic by Charles Chilton, featuring all thirteen thrilling episodes from 1958, full of gripping storylines and tense cliffhangers.
Full of atmosphere and nostalgia, this classic sci-fi series stars the finest actors – Andrew Faulds as Jet Morgan, with Alfie Bass as Lemmy, Guy Kingsley Poynter as Doc, and David Williams as Mitch. All thirteen episodes are included here, plus a fragment of a lost episode Journey to the Moon and a special half-hour look at the series, Journey Into Space…Again.
Yes we know its not Doctor Who but this might be of interest to some.