IDW Doctor Who Volume 3 Issue 7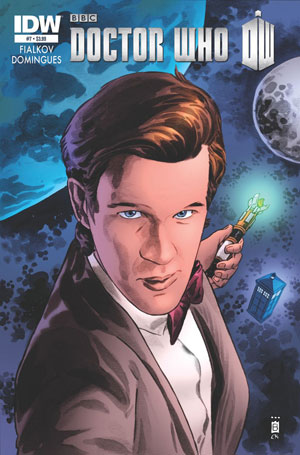 IDW Doctor Who Volume 3 Issue 7
"Space Oddity," Part 1 of 2: First in a special two-part story written by I, Vampire's Joshua Hale Fialkov!
When a cosmonaut attempts the first space walk in 1965, the rest of his crew watches in horror as he's swallowed whole by shadow.
Only the Doctor can save the spacecraft and the historically important mission.
IDW Publishing currently publishes a wide range of comic books and graphic novels including titles based on Angel, Doctor Who, GI Joe, Star Trek, Terminator: Salvation, and Transformers.
Full details can be found at www.idwpublishing.com
You can buy issues on-line at the IDW Shop (some regional restrictions can apply) or you can buy digital versions of this and all previous graphic novels from www.idw.comixology.com.
You can also see previews of IDW graphic novels at www.issuu.com