Doctor Who Hide Action Figure Set (BBC Exclusive)
Doctor Who Caliburn House Adventure Figure and Tardis Set
Order from www.bbcshop.com.
Exclusive to BBC Shop and based on the Series 7 episode Doctor Who Hide. The Doctor, Clara & 'Dematerialising' TARDIS!
The Doctor: I'm The Doctor!
Alec Palmer: Doctor what?
The Doctor: If you like!
The Doctor and Clara arrive at a haunted mansion (Caliburn House) which stands alone on a desolate moor. Here they encounter the legendary ghost hunter Professor Alec Palmer and his gifted psychic assistant, Emma Grayling. Palmer is trying to contact a fabled spirit that haunts the house – the Witch of the Well. Much to Clara's apprehension, The Doctor can't help but offer their assistance!
• Eleventh Doctor action figure
• Hologram Interface Clara action figure
• Dematerialising TARDIS (Non Electronic)
• 5+ Years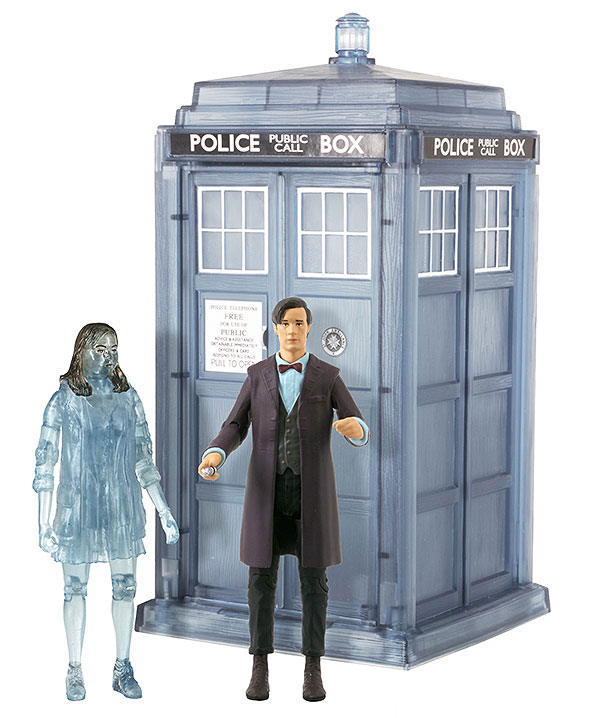 Order from www.bbcshop.com.
The Clara in the set is based on the "Tardis Voice Visual Interface" seen in "Hide". Both the interface and Clara were seen on screen at the same time making this set an ideal companion to the Hide playset due shortly.