Doctor Who DVD Files Issue 21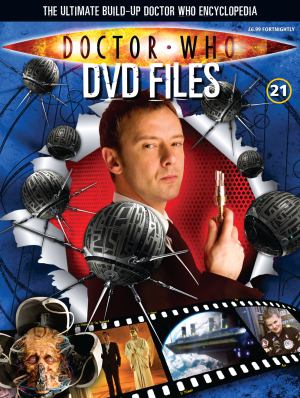 This Twenty First addition of The DVD Files, includes two further stories -Last of the Time Lords and Voyage of the Damned
Available every fortnight, the magazine builds up into the ultimate Doctor Who Encyclopedia.The series will include the very latest episodes, right up to 'The Next Doctor'.
"Doctor Who DVD Files is something unique – it's not just a chance to collect every episode of the series since the Doctor's return, the pull-apart magazine is incredibly ambitious.
You get 24 pages every fortnight packed with information and specially commissioned artwork produced by the Doctor Who art department."
The magazine features new artwork showing classic moments from the show's history and specially created diagrams and cutaways.
Don't forget to check out the DVD Files Website for two brand new wallpapers and the answers about this weeks questions.
You can also sign up to the DVD files Online archive or follow The Doctor Who DVD files on Twitter.
In this issue…
Last of the Time Lords/Voyage of the Damned
Will the Doctor overcome his physical age to defeat the Master?


A FOND FAREWELL
It's all change in the TARDIS as Sarah Jane's time as a traveller ends…
TOCLAFANE
Read about the flying foes from the end of existence!


SS TITANIC
Get onboard the fated spaceship for a technological ride!
ACE
The companion with an unhealthy interest in chemistry.
PAST MASTERS
Find otit about all the actors who have played the evil Time Lord.
TE-TRAP!
Meet the Rani's vicious bat-like servants.
For more information click Here or to subscribe go to the DVD Files website Here