Doctor Who DVD Files Issue 105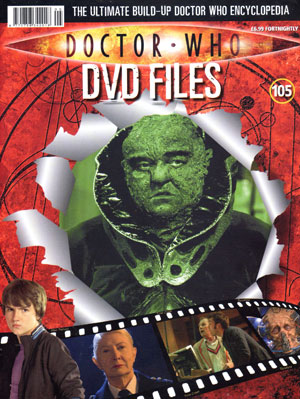 Doctor Who DVD Files Issue 105
This 104th edition of The DVD Files contains the classic story Four to Doomsday.
Available every fortnight, the magazine builds up into the ultimate Doctor Who Encyclopaedia."Doctor Who DVD Files is something unique – it's not just a chance to collect every episode of the series since the Doctor's return, the pull-apart magazine is incredibly ambitious.
Every fortnight you get pages packed with information and specially commissioned artwork.
It is currently planned to extend the DVD files to at least 110 issues.
In this issue…
FOUR TO DOOMSDAY
The Fifth Doctor faces Monarch and his army of invaders.
MISSTREFUSIS
This sinister prison guard brought the Master back to life.

MANUSSA
Visit the home of the legendary Mara…
LUKE SMITH
Meet the adopted son of Sarah Jane Smith.
THE FROG KING
Read a never-before-published interview with Stratford John
SILVER ANNIVERSARY
Doctor Who celebrates its 25th birthday!
THE NOBLE FAMILY
Donna's family was turned upside down by the Doctor.
TOCLAFANE
What is the dark secret of the Master's deadly spheres?
TIME CRASH!
Find out what happened when the Tenth Doctor met the Fift
For more information and how to subscribe go to the DVD Files website Here.
To order individual back issues click Here.