Doctor Who DVD Files Issue 104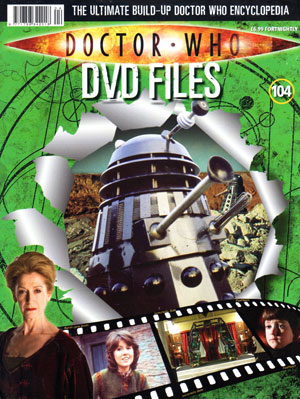 Doctor Who DVD Files Issue 104
This 104th edition of The DVD Files contains the classic story Frontier in Space.
Available every fortnight, the magazine builds up into the ultimate Doctor Who Encyclopaedia."Doctor Who DVD Files is something unique – it's not just a chance to collect every episode of the series since the Doctor's return, the pull-apart magazine is incredibly ambitious.
Every fortnight you get pages packed with information and specially commissioned artwork.
It is currently planned to extend the DVD files to at least 110 issues.
In this issue…
FRONTIER IN SPACE
The Doctor faces the Master and the Ogrons!


THE PARTISAN
This Time Lord councillor paid the ultimate price…

DRACONIA
This planet sat at the heart of a vast star-empire.
SENSORITES
These neighbours of the Ood had special powers…
PETER DAVISON
Our profile of the actor who played the Fifth Doctor.
LUCKY NUMBER SEVEN?
The Seventh Doctor makes his TV debut.
SARAH JANE SMITH: TOP 10 MOMENTS
The career highlights of the intrepid reporter and time traveller.


IMMORTALITY GATE
This Vinvocci device was deadlier than it seemed.
BIRTH OF A MONSTER
Find out how the Master went insane…
For more information and how to subscribe go to the DVD Files website Here.
To order individual back issues click Here.