Competition – Win a Doctor Who Tardis Scarf
Thanks to Lovarzi we have one Tardis scarf to give away in this competition. The winner will get to choose the colour.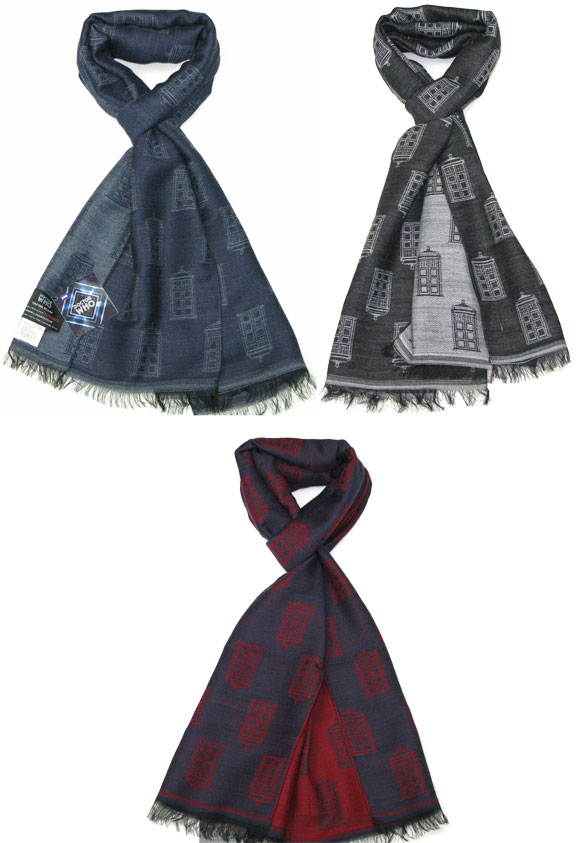 About the Tardis Scarf
Vworp! Vworp! This exclusively-designed TARDIS Scarf looks great wherever you are in time and space!
We initially set eyes on the TARDIS in the very first episode of Doctor Who, An Unearthly Child, and discovered that it's alive. But what else do we know? Well, it's bigger on the inside, of course. The chameleon circuit allows it to blend into its environment – but it's broken, and has permanently taken on the guise of a blue police call box. The Doctor "borrowed" it.
And the most important thing: it's incredible.
Our exclusive TARDIS Scarf is a celebration of Doctor Who, presented in a beautiful box, topped off with the foil-printed BBC Doctor Who logo.
View more of Lovarzi's Doctor Who items on their website www.lovarzi.co.uk
---
Enter the competition
Email us your answer to enter the competition. Please include "Tardis scarf Competition" in the subject line
In which series 8 episode did the TARDIS shrink?
A: Deep Breath
B: Robot of Sherwood
C: Flatline
This competition has now ended
---
Competition Rules
This competition is UK Only.
One entry per email. ( You must ask permission if using parents/guardians).
Email Address must be your own, or used with owners permission otherwise we wont be able to contact you.
Competition will end Friday 19th December. If the winner doesn't respond within 5 days we will pass to the next person.
The winners first name will be displayed here once they have replied to our email.
Posting comments on the website below will not count as an entry
Good luck!
View more of Lovarzi's Doctor Who items on their website www.lovarzi.co.uk