Character Building Armed Forces 2012 – Updated
Character Building H.M. Armed Forces 2012
With the addition of Deadly 60 followed by Ben 10, Topps mini's and Scooby Do to the Character Building range we have decided to re-arrange the way we cover these. Because of their compatibility with Doctor Who Character Building sets and figures there is sufficient interest to feature them all here.
In the future each range will have its own page which will be added to as items are released, Doctor Who will continue to have its own separate pages for each product.
With that in mind we have produced one page to cover all Character Building armed forces sets and figures that are released during 2012.
Character Building H.M. Armed Forces Series 3
Please note these series 3 figure images were taken by ourselves…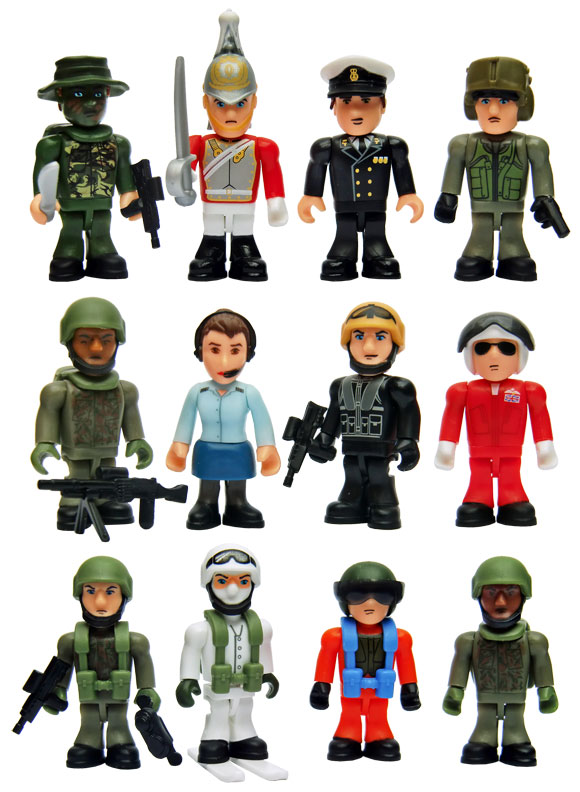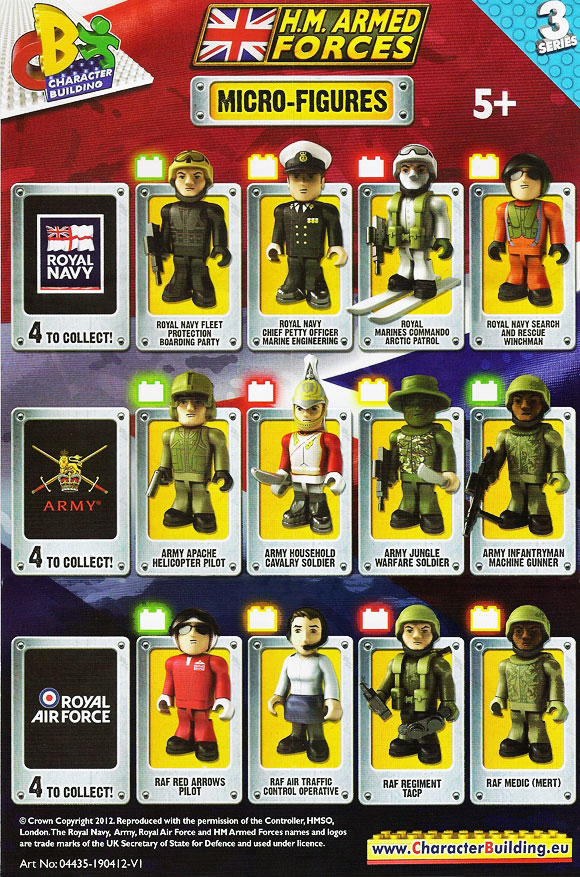 The back of the leaflet has a write-up on various ranks within the armed forces.
Common
Royal Navy Fleet Protection Boarding Party
Army Apache Helicopter Pilot
Army Infantryman Machine Gunner
RAF Red Arrows Pilot
Un-Common
Royal Navy Chief Petty Officer Marine Engineering
Royal Navy Search and Rescue Winchman
Army Jungle Warfare Soldier
RAF Air Traffic Control Operative
RAF Medic (MERT)
Rare
Royal Marines Commando Arctic Patrol
Army Household cavalry Soldier
RAF Regiment TACP
RAF Red Arrows Pilot
With at least 3 years operational flying experience, the best 9 pilots of the RAF are selected to join the Red Arrows aerobatic team. Displays are conducted across Europe to audiences of over 4 million people each year.
The pilots must have exceptional flying skills, be out-standing team players and be fit in order to deal with the G-Forces they experience.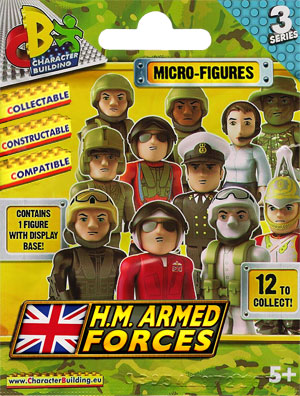 RAF Air Traffic Control Operative
By using radar and radio communications, an Air Traffic Controller is responsible for managing the flow of RAF aircraft in busy airspace at home and on operations.
By working closely with military and civilian pilots and other air traffic control operators, they ensure everyone gets to their destinations safely. Controllers are quick thinking, good at problem solving and are always alert to potential threats to flight safety.
RAF Regiment TACP
Tactical Air Control Party's job is to help Air and Land forces work together by guiding attack helicopters, fast jets and remotely piloted aircraft to the correct targets. Always ensuring the safety of civilians and friendly forces near targets, team members are quick thinking and very fit, enabling them to carry their equipment and even parachute out of aircraft.
RAF Medic (MERT)
The MERT (Medical Evacuation Response Team) of doctors, emergency nurses and paramedics deliver world-leading pre-hospital emergency care from the point of wounding to the field hospital. Working under the most demanding of operational conditions, the medics work as a highly skilled team within the back of a helicopter to provide rapidly deployable forward aero-medical evacuation.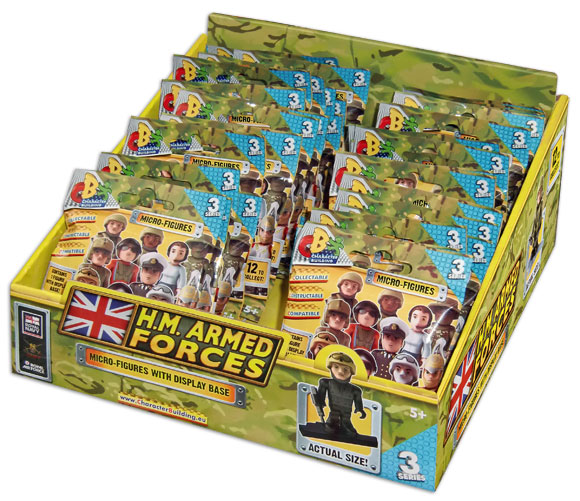 Character Building HMAF Army Infantry & Artillery Mega Set
All action Army mega set that enables you top create your very own military battles against the enemy forces. Contents includes 2 x light guns and 2 x 80mm Mortars with spring powered firing action. Also features Army MLRS tracked vehicle, fortified enemy bunker with vehicle and 6 micro-figures including 3 Royal Artillery Gunners, 1 Enemy Fighter Commander and 2 Enemy Fighter Soldiers. 738 pieces.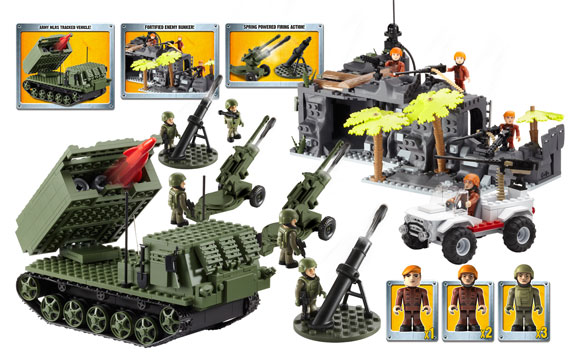 Character Building H.M. Armed Forces RAF Hercules C-130J Set
The Hercules C-130J C4/C5 aircraft has a modern glass-cockpit and head-up displays, allowing two-pilot, flight deck operation. The cockpit of the aircraft is also fully night-vision compatible with the use of night-vision goggles. The aircraft is used for operational missions involving parachute operations and air despatch. To defend the aircraft against incoming missiles, the crew use the infrared countermeasure system, a radar warning receiver and a chaff and flare dispensing system.
This highly detailed replica construction plane features access to cockpit with space for four air crew, has a large capacity cargo bay with rear opening loading ramp and realistic spinning propellers so you can now take to the skies and build your very own military missions. RAF Pilot micro-figure and two Army Paratrooper micro-figures with throw and deploy parachute included. For ages 6 years and over.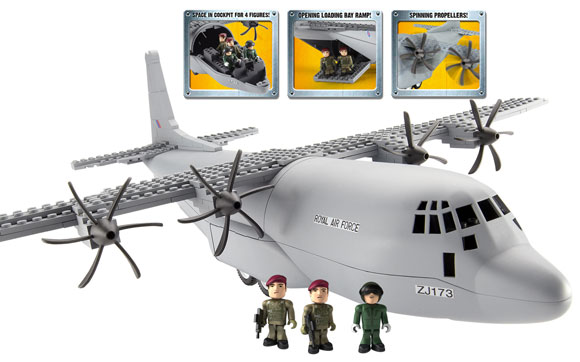 Character Building H.M. Armed Forces Royal Navy 30MM Gun Crew Set
The 30mm gun is the Royal Navy's most adaptable general purpose weapon and is fitted to many of its ships. It can engage fast moving targets up to several miles away. These can include aircraft, missiles and attack boats.
It can be operated by sailors manning the gun on the upper deck or remotely from inside the Operations Room. The Royal Navy's purpose is to prevent war, and often the mere presence of a warship is enough. However, when all else fails, ships armed with 30mm guns put them to good use. Includes Royal Navy Deck Gunner micro-figure. For ages 5 years and over.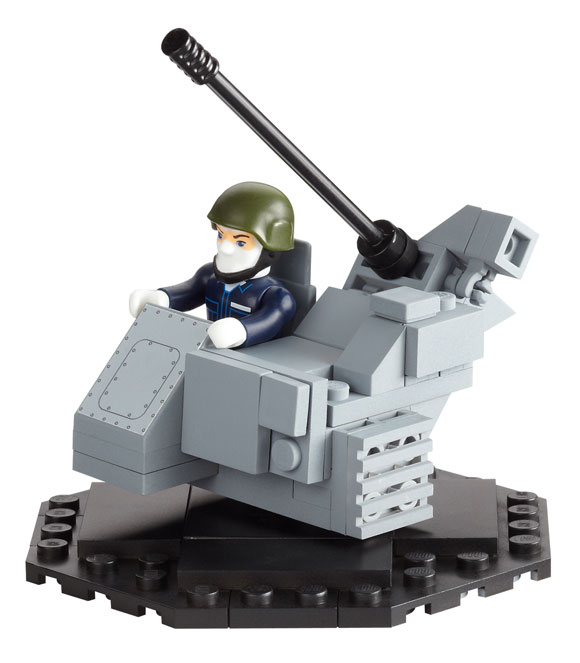 Character Building H.M. Armed Forces Army Air Defence Launcher
The HVM (High Velocity Missile) is designed to destroy low-flying fighter jets and fast 'pop up' attack helicopters. The missile, which travels at more than three times the speed of sound, uses three dart projectiles to ensure multiple hits on the target.
HVM can be fired from the shoulder, from a lightweight multiple launcher (LML) or from the Stormer armoured vehicle. This version is the LML, which can be deployed to support light role infantry or paratroopers. Includes Royal Artillery Solider micro-figure. For ages 5 years and over.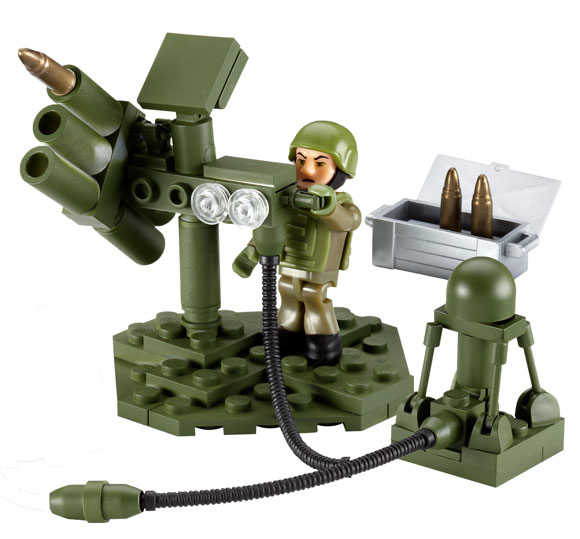 Character Building H.M. Armed Forces RAF Reaper Aircraft and Remote Operator
The RAF MQ-9 Reaper is a medium altitude, long endurance remotely piloted air system, able to fly for 13 hours. The Reaper's primary mission is to conduct Intelligence, Surveillance and Reconnaissance, employing sensors to provide real-time imagery to commanders and intelligence specialists at all levels.
If required, the crew can also provide armed support to forces on the ground. Following the same Rules of Engagement as manned RAF aircraft, the Reaper crew is able to precisely engage targets with laser guided weapons. Includes RAF Remote Operator micro-figure. For ages 5 years and over.